Makinde, Aare Isiaka Olagunju, Others Harp On Unity Of Purpose, As Egbe Amofin O'odua Holds Maiden Nat'l Conference In Ibadan
By Admin
The ancient city of Ibadan on Thursday host legal practitioners of Yoruba extraction to their maiden national conference that was held at the Aare Afe Babalola Bar Center, Iyaganaku GRA area of the metropolis.
Speaking at the event that was well attended by legal luminaries from all the Yoruba speaking states, the Executive Governor of Oyo state, Engr. Seyi Makinde, who was the Special Guest of Honour at the event, maintained that there is need for members of Egbe Amofin O'odua to be united.
In his messages to the participants at the event, Governor Makinde who was ably represented at the event by his Chief of Staff, Hon. Segun Ogunwuyi said, "my message is so simple, when there is unity, you can achieve a lot."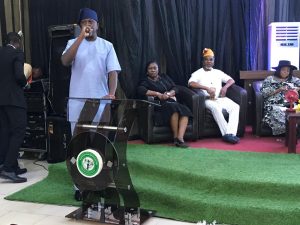 "As a politician, I will say that politics is about collective interest and as lawyers of Yoruba extraction they need to come together, and forge a common alliance, so that in the equation of Nigeria they can get what belong or what is due to the Yoruba race."
"Coming together will help them in getting what belongs to them, even in the legal profession, that's my advise for them, they should come together, unite and forge ahead." Makinde said.
In his address, the Chairman of Egbe Amofin O'odua, who also doubled as the host of the event, Aare Isiaka Abiola Olagunju (SAN) expressed his satisfaction over the turn out of members at the conference.
He said, "I feel so great, I feel so delighted, I give thanks to Almighty God, I also thank our elders and our trustees as well as our members for registering for this conference enmass, and since yesterday that we've started from the cocktail, the immense participation of our members throughout the Yoruba speaking states, because we have all branches of the Yoruba Speaking states at this conference, we our members from Kabba, Lokoja, Osogbo, Okiti Pupa, Ilorin, Badagry and some other places and this conference being the first of it's kind all I can say is that the participation of our members is very impressive."
While speaking on the takehome message from the conference, Aare Olagunju said, "Unity is our watchwords, because when you're united there is nothing you cannot do, when we had this idea of the conference, there were misgivings from some quarters, weather people will participate or not but when we consulted round we received support from our elders and leaders and all of them can see the results, so the essence is that all of us must be united, for us to achieve greatness in this profession we must be united at all times."
"So, my message to all the participants is that Yorubaland must continue to grow, as you must have heard we are Asiwaju, that frontrunner position we must not abandoned it, we must continue to be united, we must continue to have goal set, we must continue to have vision and we must continue to pursue our vision, and aspirations." Olagunju said.
While speaking on mentorship, Olagunju said, "We have young lawyers here, they're even the majority, they're the architect of this event, we were able to put them in charge of so many things, they're the ones that drives most if the processes we have in this conference, it is part of our system to show them what our association stands for, we need to let them know where we started, where we are now, and where we are going and I'm glad and delighted that they're support cannot be overemphasis."
Earlier in his welcome address, the Chairman, Conference Planning Committee, Oluseun Abimbola (SAN), maintained that the maiden Law Conference of the Egbe Amofin O'odua Lawyers' Forum, otherwise called 'Egbe Amofin' represents a platform for all lawyers of Yoruba extraction to among other objectives, find expression in our profession, forge alliances for our mutual professional interest, and harness our common values for the good of the profession at large.
"Egbe Amofin O'odua and it's objectives was birthed in the sacrificial and selfless commitment of our founding fathers to building a legal profession practiced by will all nobility, peopled by men and women of honour and integrity and bequeathing these values to succeeding generations through proper mentoring and sustenance of high standards worthy of emulation." Oluseun said.
In his address as the chairman of the occasion, the Ondo state Governor, Mr. Rotimi Akeredolu, who was represented by the Secretary to the State Government, (SSG), who is also a legal Practitioner, Princess Catherine Oladunni Odu stressed that the event is a gathering of great minds with a shared interest in the rebirth of the legal profession in Nigeria, noting that the event is a very significant to the restoration of the dignity of the legal profession.
Akeredolu in his words said, "as we are aware, the justice sector in Nigeria continues to be an inalienable part of one of the arms of Government in Nigeria. Just like any other sector, justice administration in Nigeria is not without its challenges but it still remains the path to achieving justice."
"The society, as a result, ascribes honour to the legal practitioner and because everywhere one is found, there is always reference to justice. It is for this reason that the legal profession is essential in the administration and effective dispensation of justice. As a learned silk rightly said, "there is a reason we are called the legal profession, not law profession.
This is where the Yoruba concept of "Omoluabi" which embodies the ideals of moral character, virtue, and ethical behavior is of great consideration and importance. Egbe Amofin must therefore raise mentors who are ready to be essential to shaping of the character of the legal profession as they help establish the customs and norms of the profession." Akeredolu said.