Insecurity
News
Oduduwa
Agbekoya Pledges Support For Increased Food Supply In S'West, Raises Concern Over Continued Insecurity
Agbekoya Pledges Support For Increased Food Supply In S'West, Raises Concern Over Continued Insecurity
By Admin 
The Agbekoya Coalition Group has lamented what it described as unabating threats to life and property as well as food security in Yoruba land, stating that it would support the authorities in an effort to guarantee increased security and boost food production in the zone.
Naijanewshub.com.ng reports that the group spoke through the Jagunmolu Agbekoya of Yoruba land, Chief Kunle Adelakun Eruobodo, during its national security and peace meeting held on Monday, May 1, at the IDC Model Primary School, Olopomeji, Ibadan, Oyo State where the various sections of the Agbekoya groups were harmonized.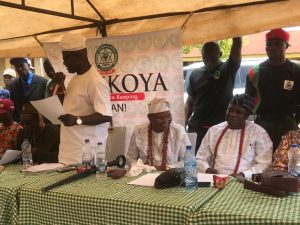 Frontline members of Agbekoya who were in attendance at the programme were the President, Reformed Agbekoya, Aare Kunle Oshodi; Muhammadu Abdulrasgeed, Comrade Akintomide, Adekunle Akinsemoyin, Baale Makoko, Lagos; Ogunjobi Samson from Oke Ogun, Alhaji Kareem Aliyu, Comrade Kamoru Oladoye a.k.a Erubofesu; and Muideen Yekeen, National Public Relations Officer, among others.
Also in attendance was Mogaji Kola Akintayo, popularly called Ode Olubadan.
In his speech on the occasion, Adelakun stated that as an organization, Agbekoya had transformed into a united and an indivisible entity known as the Agbekoya Coalition Groups.
"The primary interest of the Agbekoya Coalition Groups is to secure Yoruba territory against external forces and intruders. In furtherance of our mission, we are to promote our collective welfare and the principles of our founding fathers. It is our obligation as an organized group to defend Yoruba land against the security challenges facing the land.
"We also stand for the promotion of food sustainability through agriculture intervention on large scale in Yoruba land and by extension, Nigeria. On this, we have no choice, and no option. History has proved it beyond reasonable doubt.
"We are all aware that the political challenges of yesteryears wouldn't have been resolved without the contributions, intervention and support of the leaders of Agbekoya, most especially, in the late '60s. Furthermore, it is noteworthy that Yoruba land is currently facing imminent threat from within.
"Foes and anti-Yoruba sentiments are growing by the day in many parts Nigeria. Yet, our political leadership has not done much to either stop the perceived threats or curtail those behind it. This has, therefore, inspired the need to be more vigilant and take steps to secure Yoruba land legitimately."
Adelakun, who is the National Convener of the meeting, assured members of the public of the group's resolve to continue to work in the common interest of the Yoruba people and the country large as a new administration prepared to take over the reigns of governance starting from May 29.
Ode Olubadan, a frontline Yoruba hunter, who graced the event, educated the group e go ethical conducts and role expectations of local security outfits in Yoruba land.
The members of Agbekoya were charged against violence in the interest of all.