Agricultural Economist, Mr Omoyele Omonira who also doubles as the Chief Operating Officer of the newly launched FARMLINKUP.com platform on Wednesday called on the federal government to provide more incentives for the young farmers, as well provide an enabling environment for them to thrive in their agribusiness.
Speaking with journalists in his office at Elebu area of Ibadan, the Capital City of Oyo state during a world press conference, Mr. Omoyele advised the newly sworn in Minister of agriculture and food security Abubakar Kyari to carry the youth along in his programmes.
Omoyele, a graduate of Agric Economy, Obafemi Awolowo University, Ile-Ife, said, "The minister of agriculture and food security should not leave the agric sector to the elderly ones alone, he should try to provide more incentives for the younger farmers too."
He said, "We should not leave the farm to our fathers that are their late 60s and 70s, we should find a way to empower the younger ones that are into farming, the minister of agric and food security should create incentives for the younger ones because agriculture is the food basket of the nation and if we manage it well it will produce food for the world, nobody can survive without eating."
"Government should assist our youths in agriculture with soft loans, and create enabling environment for them to thrive in that sector, let them know that labour pays, not quick illegal means of making money, with this farmlinkup platform more marketers can come on board, more logistic companies can come on board, and it is an avenue of creating employment for the youths, if government support this our project, more opportunities can still come up for our youths and it will be a great opportunity for our country at large." Omoyele said.
While speaking on the importance of the FARMLINKUP.COM platform, to the farmers, consumers and the farm service providers, Omoyele said, "It was the problem I encountered as a poultry farmer that led me into creating this platform, it is with the aim of providing solution for our farmers.This farmlinkup platform will further encourage young people to go into farming and produce more food for people to eat."
"Farmlinkup platform will helps you sell your products fast and easy, locally and internationally. It will help the farmers to promote their farm products and services to their potential consumers seamlessly. It offers customers access to fresh and nutritious farm produce. It revolutionizes the way we market our farm produce easily with just a click and saves us from being exposed to attacks from physical assaults and pandemic virus."
"We felt that this ideas is not something we can keep to ourselves, that is why we created a Farmlinkup platform, we make it secured and we provided a leverage platform for our farmers, farm investors and the consumers to meet each others, our aims is to link up the farmers, agricultural service providers and the consumers, so the farmlinkUp is an online market place for farmers and all the stakeholders in agribusiness value-chain with the aim of making their job more easier."
"For instance, if you want to know the price of any farm produces, all you need to do is just download the farmlinkUp app and go straight to the items you need, then you will see the prices of those items and even the locations of such commodities, So you don't need to waste much on logistic before you get your farm products, as a farmer all you need to do is just take some photographs of your products and upload them on our platform with your location and contact number, then be expecting buyers across the world, this will make the off-takers jobs more easier, we need to revolutionalised everything we do in agric sector.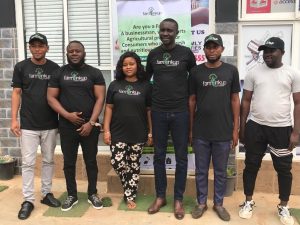 "We are already in digital era and we need to make good use of it in agriculture sector too, and that's what is happening, this platform will reduce the rate of road accidents as a result of searching for your products, it will also reduce the rate of kidnapping as you don't need to travel far before you get your farm products, so your logistics expenses will also reduce drastically." Omoyele said.