A Yoruba socio – cultural group, the Council of Yoruba Elders (CYE) has disclosed it's plan to convene a ' National Restructuring Conference' in collaboration with major ethnic nationalities in the country.
The President of the Council, Chief Adegboye Onigbinde made this known during the inauguration of it's global executive council and committees held at the the head office of the organization Oduduwa Center, Iwo Road, Ibadan.
Adegboye, a former Super Eagles Technical Adviser explained that
the aim of the Conference is to ignite the campaign and coordination of the restructuring project.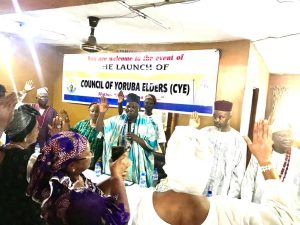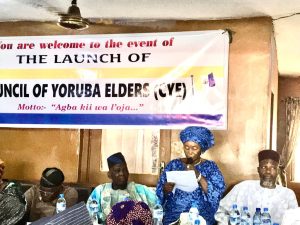 According to him, it is only through restructuring that true federalism can be achieved, adding that the essence of the Committees is to "heavily and forcefully campaign for the restructuring of the country which we believe we are going to achieve with grim determination."
The CYE President also said the group has perfected plans to host president Bola Tinubu and all other political office holders of Yoruba extraction to a civic reception where it will table it's demands before them."
"We need to connect with all the major nationalities in the country for ignition into traction the campaign for and coordination of the restructuring project under the auspices of 'National Restructuring Conference'.
"We have perfected plans to give a civic reception to the president and all political office holders of Yoruba extraction so we can table our demands before them.
"We need to put our various youth and security-inclined organizations to task and deploy them into assisting the country's security operatives in combing our towns, cities and forests for the removal of the criminal elements.
He called on all well-meaning Yoruba sons and daughters across the world to join forces with the CYE adding that the council is open to all interested Yoruba elders
The football administrator used the occasion to highlight the agenda of the Council to include; need to put up a very good constitution, to effectuate the corporate registration of the organization, acquisition of a befitting office as secretariat,
Others are the need to equip the office and to service the secretariat for unfettered operations and other sundry matters, provision of operational vehicles, launching of the states and diaspora chapters and the need to financially empower the various committees.
He solicited the engagements of more experts in the various fields yet unoccupied such as Agriculture
Sports, Health, Petroleum Resources, Solid Mineral, Political Affairs
Works & Transport, Judiciary, Science & Technology, Investments, Aviation & Space,Youth Development, Arts &Culture and Fund-raising Committee.
Speaking with newsmen at the end of the occasion the Secretary General of Council of Yoruba Elders and convener of the organization, Dr. Victor Taiwo explained that the committees will serve in the system of Council of Yoruba Elders in order to put certain things in place towards achieving it's objectives.