As part of measures to unite the Yoruba race from across the entire south western region in Nigeria, a sociocultural group named Council of Yoruba Elders (CYE) has emerged from foremost Yoruba Council of Elders (YCE).
Consequently, former Super Eagles Head Coach and FIFA Executive member, Chief Adegboye Onigbinde and Yeye Oodua of the source, Erelu Abiola Dosumu have emerged as President and vice president of the new group.
Onigbinde's emergence as the national leader of CYE followed his nomination by elders of Yorubaland from across the six states of the south west in attendance comprising Oyo, Osun, Ogun, Ondo, Ekiti, and Lagos states.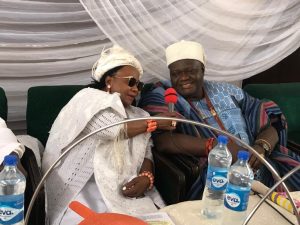 The Yoruba elders converged at the historic House of Chiefs, Agodi Secretariat, Ibadan on Thursday August 31 to make the announcement at the official launch of CYE.
Some prominent Monarchs in attendance include the Olubadan of Ibadanland; Oba Mahood Lekan Balogun represented by Ajiroba Olubadan and Professor Soji Akanbi, the Elerinmo of Erinmo Ijesha; Oba Odunayo Ajayi.
Other notable Yoruba leaders in attendance include Olori Omo Eko, Chief Akeem Dabola, Baale Ekotedo and representatives of Baales of Ibadanland, Chief Taye Ayorinde, national president of Yoruba Soji Global Initiative; Chief Tajudeen Ajayi, and a host of others.
The Convener of the event, Dr Victor Taiwo who is the national president of Oodua Redemption Alliance who as well as a pioneer member of Yoruba World Congress said the central motive behind the birth of the new sociocultural group are unity and oneness among the Yoruba race worldwide.
Elders and other stakeholders who spoke at the event in their separate remarks emphasized the need for Yoruba Elders and leaders to come together towards advancement of unity among the Yoruba race regardless of religious or political Interests and affinity.
Chief Onigbinde in his brief acceptance speech expressed gratitude to the Yoruba elders for the trust and confidence reposed in him while the former sportsman also paid reverence to monarchs and traditional leaders of Yorubaland.
He disclosed that the task ahead is herculean and as such require all well meaning Yoruba sons and daughters to brace up for the real pursuit of unity in Yorubaland.
In his words, Dr Victor Taiwo said, "where are here today to chart a new course for the Yoruba people in the face of the challenges we are contending with as a major nationality and stakeholder in Nigeria.
"I have come under heavy hammer of criticisms from both young and old castigating me that I know how to build edifices but I don't know how to sustain them. Why must I always build edifices and bring in people who will destroy them? Am I not old enough to be a leader to handle the affairs of the organizations? Somebody was even furious enough as to call me a stupid man. Was he right or not?"
"Well, let me not be immodest by saying that I know I have all the grace of God and gift of organizational and human management huge enough to rule the world, but my inability to mount the helms of affairs could be found in the philosophy of our elders which says. "Ologbon kan ko fi ara re j'oba, omoran kan ko fi ara re j'oye. I think that explains it all."
"Now that the onus of birthing another unity project has fallen on me again via the revival of the comatose Yoruba Council of Elders, people have challenged me if I am still going to bring up people to run the affairs besides me. And I think I will have to disappoint my fans to say 'yes' as I cannot impose myself as a leader."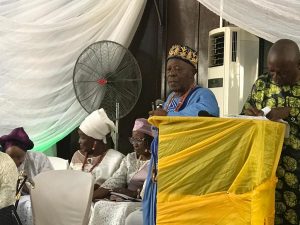 "Thus I believe we can locate some good elders who are capable of running the affairs of Yoruba race. If they failed to meet our expectations, it is left to them. But I want to believe that there are people who can captain the ship of Yorubaland to a glorious berthing."
"Let us all pray that this experiment will succeed and make all Yoruba people all over the world proud." Taiwo said.