Four Dead, Many Injured In Auto Crash On Ibadan/Oyo Expressway
By Admin
No fewer than four people on Saturday were confirmed dead, while many were injured when an 18-passanger white Toyota Hummer bus with registration number JJJ 941 XA (Lagos) summasulted along Ibadan/Oyo express way.
The accident, according to Atiba Unit Commander, Federal Road Safety Corp (FRSC), DCC Bayode Olugbesan was caused by over speeding and overloading.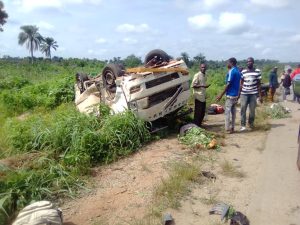 He said 20 people were involved in the accident but only four were confirmed death by doctor after taking them to State Hospital, Oyo.
He said four people who died in the accident has been taken to the mortuary.
"All the victims are male and their destination is the north. The cause of the crash was over speeding and overloading, the bus supposed to carry 14 passenger but was loaded with 20 passengers."
He however, appealed to road users to be careful while driving, avoid over speeding, overloading and night travelling.
Meanwhile, when visited the hospital, a source within the hospital who pleaded anonymous  said 15 victims were brought to the hospital but only two of them died.