NACOLM Students Visit BAT Ibadan Factory To Boost Logistics Management Knowledge
By Admin
The students of the Nigerian Army College of Logistics and Management (NACOLM) embarked on an excursion to the British American Tobacco (BAT) Nigeria Factory, in Ibadan Oyo State.
Naijanewshub.com.ng reports that NACOLM's visit to the $185 million State of the Art facility established in 2003, was part of efforts to enhance their learning on supply chain logistics and insight on global best practices.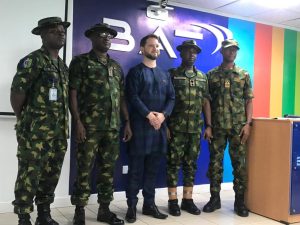 The visit which involved adult students above the age of 20 years, aimed at helping the students translate academic concepts and theories into practical realities in the manufacturing sector.
The objective was to learn best practices in logistic management and broaden their awareness of the principles of supply chain and the intricate operations between inventory management, employees, and facilities.
In her remarks, the External Affairs Director, BAT Nigeria, Mrs. Odiri Erewa-Meggison, said, "We strongly believe that through academic trips such as this, that manufacturing companies like ours can play a positive role in supporting industry learnings to expose young adults to the workplace and enhance their economic wellbeing, empowering them with the skills and confidence they need to succeed in the world of work".
"This study tour to the Ibadan Factory, is part of BAT Nigeria's commitment to provide shared value through it's a Better Tomorrow™ ambition, to the communities in which it operates in, to empower and upscale technical skillsets to a sustainable employment talent pipeline in the country" she said.
Also in his address, the Director of Operations, BAT Nigeria, Alberto Kauer, noted that the visit was an excellent opportunity for BAT Nigeria to interact with adult students from the Nigeria Army College of Logistics and Management to share knowledge and experience in supply chain.
Alberto said, "It was a very impactful session we had, and these learning sessions are critical for growth and development. Having NACOLM at the Factory demonstrates BAT's commitment to strengthening local capacities and making a positive impact in the society."
The students had a session on supply chain management, sustainable actions adopted by BAT Nigeria in its operations and a tour of the factory.