The Chief Of Army Staff, (COAS) Maj. General Taoreed Lagbaja has on Tuesday charged members of the Nigerian Legion who are veterans of Nigerian Army to continue supporting the active soldiers who are currently on duties across the country fighting insurgency among other crimes with useful informations.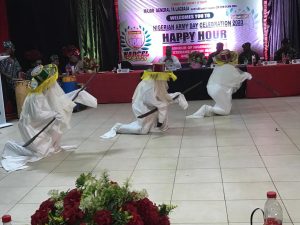 Speaking at the International Conference Center, University of Ibadan, Ibadan during the Veteran Happy Hour in Honour of the Nigerian Army Veterans within Ibadan and it's environs, Maj. General Lagbaja who was ably represented at the event by Major General Lawrence Fejokwu urged the veterans to remain fit, and be ready to serve the country at any time.
Veteran Happy Hour is one of the activities to commemorate the marking of the 160 anniversary of 2023 Nigerian Army Day Celebration (NADCEL 2023).
Lagbaja in his address said, "on assumption of office, things concerning veterans with emphasise on veterans of Nigerian Army are outmost on my mind, and I will continue to pursue them for the betterment of your welfare."
"I want you to continue playing the good roles that some of you are playing by quietly reporting actionable intelligence to the military units and formations closest to you."
"The information we get from you will go a long way in fighting violent, crimes and insurgency." He said.
While speaking in the significant of the event, Major General Lagbaja said, "the significance is rooted in the fact that we are having Army Day Celebration, the history and the importance that we all known that is attached to it."
"The veterans should continue to be good citizens and see themselves as part and parcels of the Armed Forces and as for the veterans of Nigerians Army you all known the kind of support you give at your level, and I want you to continue giving the support with the aim of curbing crimes and insurgency around the country."
"Just like every other good citizens will do, when you see something, say something, but because you've served in the military you know the appropriate places to go, so please don't hesitate to give us credible informations that will help us in combating crimes."
"I wish all of you well, please continue to keep fit, I'm happy to see all of you strong, and so you shall be by the grace of God." Lagbaja said.
In his remarks, the National Chairman of the Nigerian Legion, Rtd Maj. General Abdul Malik Jibril applauded the Nigerian Army for organizing such event for members of Nigeria Legion.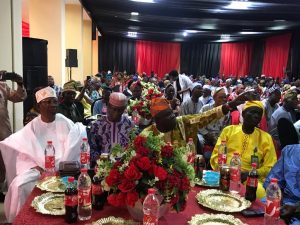 He said, "In the past we don't used to have something like this, I want to urge the Nigerian Army to always carry the veterans along in their activities for they also have a lot to contribute towards securing Nigeria as a country.