The Nigerian Army in it's efforts to refresh officers on contemporary operational realities, as well instill and foster discipline, respect and synergy between the military and other security agencies commenced training for officers on operational planning in a joint environment.
The training tagged Operations Planning Cadre For Officers of 2 Division areas of responsibility kicked started on Monday, at the Headquarters of the 2 Division Auditorium, Adekunle Fajuyi Cantonment Ibadan.
While declaring open the training, the Chief of Training Nigerian Army, Major General Sani Gambo Muhammed, who was the Special Guest of Honour at the event, ably represented at the event by Brigadier General Ilori Bindul stressed that the Operations Planning Cadre is designed to practice middle cadre officers on the basic rudiments of Operational Art and its processes and procedures.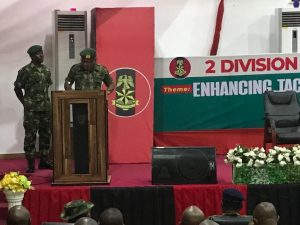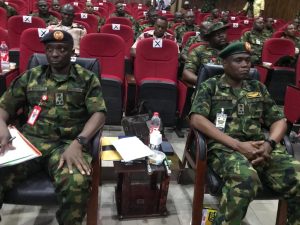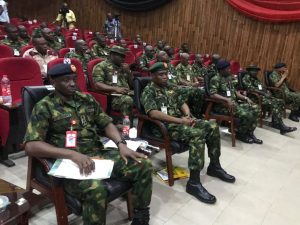 Major General Sani while speaking on the theme of the training, "Enhancing Tactical Skills In Operational Planning Process for Commanders In A Joint Environment", further emphasized that the training is focused on selected aspects of operations planning to give participants a thorough knowledge of the combat and tactical estimates steps, purposes and outputs. Here at the Division level, the cadre gives you the opportunity to practice what you have learnt in the staff and war colleges; based on the operational realities of 2 Division. Hence, you will find yourself working with scenarios of security issues that are prevalent in your AOR during the cadre.
Sani said, "This Cadre is an improved version of the previous ones. It is loaded with robust lectures aimed at addressing contemporary security challenges. Additionally, you will have hands-on activities that will facilitate your further understanding of the subject. Therefore, I enjoin you to feel free and ask questions from the resource persons and colleagues, cooperate amongst yourselves and take instructions from the resource persons, especially during practical lessons. As the saying goes "Practice makes Perfect"."
"I want you to take your hands-on training and indeed all aspects of this Cadre very seriously. Your individual performance, your contributions of wealth of experiences and your team work is of utmost importance in this Cadre. At the end, we expect you to be able to develop tactical level operations plan from higher Commanders directives, liaison with relevant stakeholders, sister agencies, and allocation of resources, since you will also be doing the logistics planning package. Others include identification of risks and development of contingency plans, time management, sequencing as well as performance monitoring of operational plans (war gaming) amongst others. Therefore, put in your best."
"Let me at this juncture thank the GOC 2 Div, Maj Gen BA Alabi and his organising team for putting together this cadre. So far, I have seen top notch arrangements put in place to ensure the success of this very important training activity. Indeed, I am not surprised as the GOC is a highly respected senior officer who has made great impact in the area of training and particularly as a trailblazer in operations planning. Finally, I want to sincerely thank the Chief of Army Staff, Lt Gen TA Lagbaja for his unwavering support towards this programme, which is in line with his command philosophy that includes transforming the NA into a well-trained force. Indeed, the COAS has continued to provide the resources required for all training activities in the NA."
"Please note that so much material and human resources has been put in place for the utmost progress of this exercise. Therefore, there should be no dull moment throughout this all important Cadre. I therefore implore you participants to grab this opportunity in order to bring glory to yourselves, to 2 Division, to the NA and to Nigeria at large. On this note, I hereby declare this 2 Division Operations Planning Cadre 2023 Opened." Sani said.
Earlier in his welcome address, the General Officer Commanding of 2 Division Nigerian Army, Major General Bamidele Alabi said, "the Cadre is an annual event organized to refresh officers on contemporary operational realities of the Nigerian Army."
Major General Alabi noted that this Year's Operations Planning Cadre would include presentation periods, hands-on exercises and interactive Sessions.These are carefully designed to train and retrain officers toward capacity building for enhanced performance in carrying out operational responsibilities.
He said, "The training would instill and foster discipline, respect and synergy between the military and other security agencies in line with the Chief of Army Staff's Command Philosophy, which is "To transform the NA into a Well-trained, Equipped and Highly Motivated Force Towards Archiving our Constitutional Responsibilities within a Joint Environment". Furthermore, the presence of personnel from Sister Services and other security agencies was to make the training more realistic, since most internal security operations are conducted within a joint environment."
"I enjoin all participants to freely express opinions and ideas that will aid in achieving the objectives of the Cadre. I have no doubt that the Cadre will enrich your knowledge through the variety of lectures, presentations and group discussions that will be given by various resource persons. Let me use this opportunity to advice the participants to make maximum use of this Cadre to understand the dynamics of proper synergy, collaboration and sound coordination of operations with Sister Agencies. This is because the Cadre had presented a practical joint environment that would enable you to interface with each other."
"In this light, I urge you all to continue to play your respective roles in accomplishing the Chief of Army Staff's Command Philosophy. This is to be achieved by upholding the command pillars of leadership, operational effectiveness and administration in steering the affairs of the Nigerian Army within 2 Division Area of Responsibility."
"May I use this opportunity to formally thank the Chief of Army Staff for his immense support and keen interest in 2 Division and the entire Nigerian Army. We will continue to tap from his fountain of knowledge; hence, I wish you all a rewarding Operations Planning Cadre exercise. Finally, I wish to once again welcome the Army Headquarters representatives, our Special Guests, our esteem resource persons and participants to this event."