Osinbajo Commissions Westlink Iconic Estate In Ibadan, Urges Nigerians To Support Real Estate Sector
•••says despite challenges Nigeria remain topmost in industrial, tech, trade, Investment hub
By Admin
Vice President, Prof. Yemi Osinbajo

has called on Nigerians in home and abroad to embrace the real estate industry for the sake of the

nation's future.

Naijanewshub.com.ng reports that Prof. Yemi Osinbajo made this call on Thursday while commissioning Westlink Iconic Estate in Alakia Ibadan, the Capital City of Oyo state.

Westlink Iconic Estate Ibadan is a joint venture between Odu'a Investment Company Limited and Chapter 4 Estate Management Limited.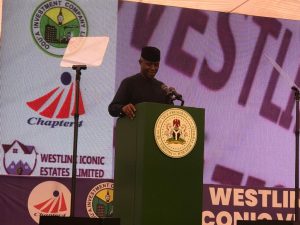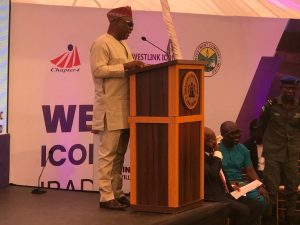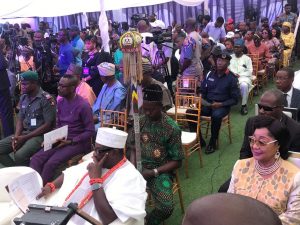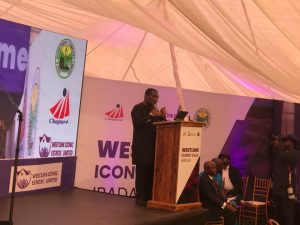 Vice President Yemi Osinbajo in his address at the event, stressed that despite several challenges, Nigeria still remain topmost industrial, tech, investment and and trade hub across the globe.
He said, "The Nigerian business environment has been colored and polarized with lots of challenges spawning fear as a result of insecurity, uncertainty, political, environmental and cultural disparities, in spite of these challenges, Nigeria is slowly but surely checking the boxes when it comes to the ease of doing business, resulting in the country being one of the topmost hubs for business, trade and investment."
"Nigeria is ranked 131 out of 190 economies in the world on ease of doing business, according to the latest World Bank ratings. This is an improvement after moving 15 places from 146 in 2018. In pursuance of this administration's goal to further improve Nigeria's ease of doing business ratings, President Mohammadu Buhari inaugurated the Presidential Enabling Business Environment Council (PEBEC), chaired by my humble self, in July 2016. PEBEC's primary objective is to catalyse the country's business environment; and to also maintain a proper business climate."
"No doubt, the Ease of Doing Business reforms in Nigeria and the appeal to Nigerians in the diaspora, encouraged what we are seeing here today through this magnificent Joint Venture project between Odu'a Investment Company Limited and Chapter 4 Estates Management Ltd. UK. I must commend the effort of the Board and Management of Odu'a Investment Company Limited for initiating this noble project, and ensuring that the First phase of the project is being commissioned today. This clearly demonstrate a blend of private partnership which brings about greater dividends."
"What we see here today, confirms that there is a huge opportunity in Nigeria for investments in real estate industry. While government commits to creating an enabling environment, I will advise that we look to the private sector for investments to galvanize growth in the sector. We must indeed, work together to redefine the real estate industry for the future in Nigeria".
"It is my pleasure to be a part of this epoch-making event which clearly indicates tangible progress in creating standard housing for Nigerians. I am delighted with what I'm seeing here today, this is no doubt, creating a new and vibrant neighbourhood in this part of the country; Oyo State. I am hopeful that with the example you have set, this can serve as a model for many others to follow." Osinbajo said.
In his remarks, Oyo state governor, Engr. Seyi Makinde who was ably represented at the event by his deputy, Barrister Adebayo Lawal maintained that provison of affordable shelter is an issue that is most crucial to all human.
He said, "The assignment before us today is one that touches on one issue most crucial to human existential reality. Basically, the human being needs food, water, air, and shelter to survive and with that guaranteed, he can launch to conquer new grounds and make more discoveries. Shelter is key because, without it, human existence is threatened."
"That is why the Oyo State government wholeheartedly welcomed and supported the idea of this estate when it was mooted in 2019. It is also because there is a compelling need to address our housing deficit, which has greatly impacted on our Human Development Index as a nation."
"This initiative of the Odu'a Investment Company Limited bodes well with the deliberate design of the government of Oyo State to make life more meaningful to the people of the state, open up our economy and enhance the quality of life."
"Today, I am happy to see that the estate, that was envisioned at the start of this administration, is coming to life as we gather here today to inaugurate the first phase of the Westlink Iconic Estate, Alakia Ibadan." He said.
Earlier in his welcome address, the Group Chairman of Odu'a Investment Company Limited, Otunba Abimbola Ashiru commended Governor Makinde for his support over the Westlink Iconic Estate.
He said, "I will also like to thank Engr. Seyi Makinde, our host Governor, for supporting us through the very many stages of this Project. As Odu'a Investments, we can attest to the fact that the state has continuously provided us with a conducive environment to do business."
"I will also like to acknowledge the presence of our other shareholders. We appreciate you for all your support and encouragement.I will like to appreciate our JV partners Chapter 4 Estates Management Ltd., you have performed very well, and we are proud of the Project being commissioned today."
"The real estate industry in Nigeria has continued to experience steady growth over the last two decades. During this period, consumer tastes and expectations have significantly evolved. Changing lifestyle needs, technology, and an increased focus on sustainability continue to transform the consumers' needs when buying, or renting properties for both residential and commercial purposes."
"The next couple of years will be very exciting for the real estate sector, especially with the emergence of a new generation of potential home owners and renters who are technologically savvy and prioritise comfort. One component of the Nigeria property market's evolution which I believe can make the market more vibrant is an efficient Mortgage Sector. With the amount of pent-up demand for property in the local market, if the right mortgage terms are available, I believe that originating 100,000 residential mortgages per annum is very possible."
"We at Odu'a Investment Group are bullish about the immediate future of the Nigeria Real Estate Industry. As one of the largest holders of real estate assets in the country, we see first-hand the immense opportunities across the residential, commercial and industrial segments of the sector. We plan to develop new, and build on existing partnerships to help meet the growing demand for modern and first-class properties and living environments."
"Over the last four years, the Odu'a Investment Group has leveraged partnerships with developers such as Chapter 4 Estates Management Ltd, Address Homes and many others to envision world class projects such as the Westlink Iconic Villa, Alakia, and the Ikoyi Crescent JV development between Wemabod and The Address Homes Ltd. There are a lot of other projects in the pipeline in cities like Lagos, Ibadan, Ado-Ekiti, etc."
"These projects are at different stages of development, and we will continue to count on the support of our shareholders and other stakeholders to bring these projects to the market seamlessly. Over the next 36 months, expected to deliver over two hundred (200) units of residential properties ranging from affordable homes to luxury homes. We also expect to bring to the market at least two new shopping malls in Lagos within that period."
"As a Group, we see opportunity across the whole spectrum of the real estate industry covering property development, estate management, and facility management. We therefore recently transformed our flagship real estate subsidiary, Wemabod Ltd into a full-service real estate company to take advantage of opportunities across the entire value chain. In the next few years, you will definitely hear a lot from the Odu'a Investment Group not only through third party Joint Ventures, but increasingly from Wemabod Ltd. We have tasked Wemabod Ltd to aggressively expand its own portfolio of projects and clients."
"The Joint Venture development between Odu'a Investment, and Chapter 4 Estates Management Ltd is on a land measuring about 3.8 hectares. The Phase 1 which is being commissioned today has improved the value of an entire land significantly. Before the agreement was reached between Odu'a Investment, and Chapter 4 Estates Management, the land was just an open field occupied by illegal occupants and squatters, and was not generating any significant value for Odu'a Investment."
"Since the Project's ground breaking ceremony in September 2019, and even through the Covid-19 pandemic, the value of this asset has continued to appreciate. We expect that the commissioning of the project today will signal to the public that some significant urban rejuvenation is happening in this community, and subsequently improve the value of properties in this area."
"The Westlink Iconic Villa, Alakia Project demonstrates our resolve and commitment to working with the best partners in the industry to deliver high quality real estate projects. The Phase 1 is made up of sixty-seven (67) residential units of 3-bedroom apartments, 4-bedroom duplexes and 5-bedroom duplexes."
"The apartments are serviced with best-in-class facilities and amenities including street lights, treated high pressure pipe borne water, security and waste management facilities." Ashiru said.