Our Administration Has Achieved Remarkable Success On Its Four-Point Agenda – Makinde ••• Receives Participants Of Strategic Mgt & Policy Studies Course 5/22
By Our Reporter
Governor Makinde

has said that his administration has achieved remarkable success on its four point agenda.

Naijanewshub.com.ng reports that Oyo State governor, 'Seyi Makinde has declared that his administration will continue to work on linking all the zones of the state in order to ensure the continuous and sustained expansion of the state's economy.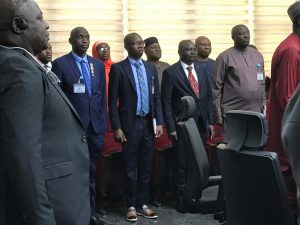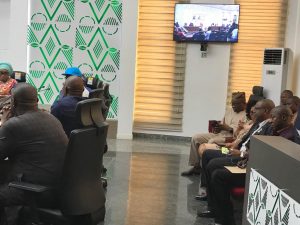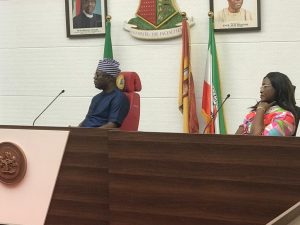 The governor stated this on Tuesday, while receiving the participants of the Strategic Management and Policy Studies, Course 5/22, Nigerian Army Resource Centre, Abuja.
The study group was led by Major-General Kabir Imam Mukhtar.
While addressing the course participants at a courtesy call held inside the Executive Council Chambers of his office, Governor Makinde stated that security agencies have been working together with the state government to make the state safe.
Makinde maintained that his administration has achieved remarkable success on its four-point service agenda.
He said: "When we came in, we settled for four major pillars to drive the economy of Oyo State, which are education, health, expansion of our economy through agribusiness and security.
"The security team we have assembled here is quite formidable, and we work together to keep this state safe and secure.
"We are still in the electioneering mood, and I have to sell myself. But we have recorded significant progress in those four areas.
"Regarding our zones, we want them to be carried all along strategically, and the only way to do that is for us to link the zones together.
When they are linked with infrastructure economically, then we remain linked as well.
"We have successfully linked Ibadan, which is the main consumption centre for us to Oke-Ogun and other zones. "We are also linking Oyo to Oke-Ogun zone and it is almost done.
We have also created a new road between Ogbomoso and Oke Ogun Zone and we have linked Oke Ogun to Ibarapa.
Strategically, our economy in the state is linked.
"Health care delivery is also part of what we are working on.
Eight months into the administration, COVID-19 pandemic hit the whole world, but we managed it even without locking down the state."
The governor added that participants of the Management and Strategic Policy Studies can get a lot of insights from his government, if they ask the right questions, saying: "For this programme and the course participants, you have quite a bit to get from us if you ask the right questions. The people that worked hard to support and put the right foot forward for this administration are seated here.
"Please, ask them the right question and they will enrich this programme. I have said this because, at some points, what we did to manage the COVID-19 pandemic was what they adopted at the Federal level.
"Once again, I want to welcome you and wish the participants an enjoyable time in Ibadan. I want to assure you that whatever we can do to ensure this is not a hardship visit to Oyo State, we will do it."
Earlier, the leader of the team, Major-General Mukhtar, appreciated Governor Makinde for the warm welcome the participants have received from him and the members of his cabinet.