Oyo LP Rep Candidate, Sunday Oni Declare Support For Makinde Ahead Governorship Elections
By Admin
Honorable Sunday Oni

has declared support for

Engr. Seyi Makinde.

Naijanewshub.com.ng reports that Honorable Sunday Oni, the Labour Party Candidate for Ibadan North West/South West Federal constituency at the just concluded February 25 Presidential and National Assembly elections has declared his support for Engr. Seyi Makinde ahead the forthcoming governorship elections in Oyo state.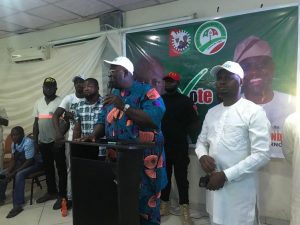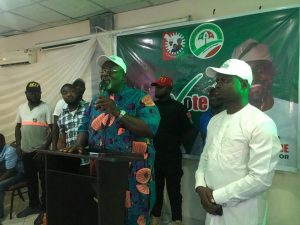 Honorable Sunday Oni in his address during the get together reception with his teeming supporters and followers at a popular event center along Ring-Road Area, Ibadan the Capital of Oyo state declared his support for Governor Seyi Makinde who is seeking re-election into office under the platform of the Peoples Democratic Party (PDP) at the forthcoming elections.
Oni maintained that Governor Makinde has recorded remarkable achievements in less than four years.
He said, "today's event was a 2-in-1 event, with the aim to appreciate my teeming supporters and also make public declaration for the adoption and endorsement of Makinde towards his re-election bid."
"First an foremost, let me say this event is to appreciate our teeming supporters and followers towards the success of the last election, and secondly, to endorse Governor Seyi Makinde of the PDP for a second term in office."
"I called my people together here today to appreciate them for the job welldone at the just concluded elections, though we did not win the election but we have to appreciate them because everybody tried, for a party that started the movement just about seven months ago and we recorded up to 10,000 plus votes, it is not an easy feat, they deserve my appreciation."
"This event become necessary in order to foster a synergy of cooperation and mutual engagement between myself, the Labour Party, my supporters and the PDP ahead of the coming March 18 governorship and state House assembly elections."
"We are here basically because from the national to the state level, our party has endorsed Engr. Seyi Makinde for second term and as a leader in my constituency I have to officially carry my people along and I have to tell them the reason why we have  to work for Seyi Makinde at the forthcoming governorship elections, I don't want them to be hearing it in the news that I'm supporting Seyi Makinde, that is why we are here."
"I'm also using this gathering to inform our people to still remain intact and stay together till 2027, I'm even saying this that our Presidential Candidate should remain in the party, I know that our case is still in the court of law and by the grace of God we will claim our mandate, but whatever the outcome, I still want our principal Mr. Peter Obi to remain in the party and I can say categorically that come 2027 we shall win elections, so I'm begging our people that they should go out en-masse and vote for Engr. Seyi Makinde, for the Governor has promised to do more for the youths in his second term in office." Oni said.
Oni however, stressed that other House of Assembly candidates of the party who are still pursuing their political ambitions at the coming election will be fully supported, noting that the structure of the LP  remains intact.
The guest of honour at the event, Hon. Stanley Adedeji, popularly known as Odidiomo, a PDP  lawmaker representing the people of Ibadan North West/South West Federal constituency, in his remarks lauded Hon. Sunday Oni for organizing such a gathering that is aimed at fostering relationship between the Labour Party and the PDP.
He said, "This is very exciting that the Labour Party movement and PDP as a party were coming together to synergize and work together to deliver governor Seyi Makinde as the executive Governor of Oyo state till 2027 come March 18.
"Let me say this in particular, it is very good when you're in a room with a lot of youths that have all the energy and passion for what they're doing, you know with that kind of passion and enthusiasm coming together with a very matured party like PDP, we're going to work together with all the energy they have, the structure and energy that we have, we'll put our resources together to deliver Govenor Seyi Makinde this coming Saturday."
"The essence of this collaboration is to work together to ensure the re-election of Engr Seyi Makinde and deliver the agenda of Omitutun 2 .0. for a better Oyo State in the interest of all and sundry. Hon. Adedeji said.
Other political stakeholders at the event who spoke highly of governor Makinde and the determination to work for the success of his reelection include Ibadan South west local government PDP chairman, LP state women leader, deputy state chairmen, and others.