By Odunayo Oluwabukola, Ibadan
No fewer than thirty one (31) suspected criminals have been paraded in Ibadan on Friday for their alleged involvement in various crimes ranging from armed robbery, hijacking and diversion of goods worth millions of naira, abduction for ransom, among others.
The suspects were paraded alongside their exhibits at the Oyo State Police Command Headquarters, Eleyele, Ibadan on Friday.
While briefing Journalists on behalf of the state Commissioner of Police, CP Adebola Hamzat, the state Police Public Relations Officer, SP Adewale Osifeso confirmed a cased of hijacking and diversion of goods that worth millions of naira.
Osifeso gave the names of the suspects as Moses Olatunji, aged 37; Teslim Olapade, aged 41; and Lawal Adeshina, aged 51.
The state police scribe while narrating how the suspected hijackers we're arrested confirmed that team of operatives attached to the Command Monitoring Unit on 28th September, 2023 embarked on a discreet intelligence gathering with intent to uncover the activities of a criminal gang that specializes in Hijacking and Diversion of trailers loaded with valuable items on the Highway across Oyo State and in the process, a suspected member of the armed robbery syndicate, one Moses Olatunji Isaac was arrested at his hideout in Ring Road area Ibadan at about 0200hrs on the said date.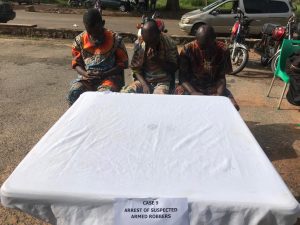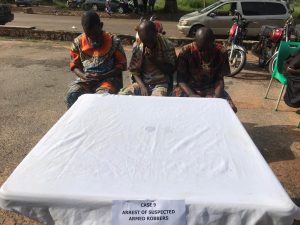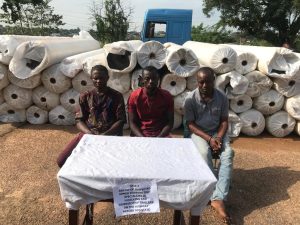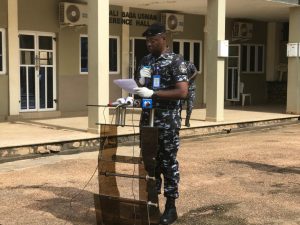 He further said, "Upon interrogation, the suspect confessed to have masterminded series of such criminal activities along Ibadan/Lagos expressway and he later led operatives of the Monitoring Unit to his syndicate's hideout where One Hundred and Three (103) Rolls of Imported Rugs valued about Five Hundred and Fifty Million (N550, 000, 000. 00) ONLY were recovered."
"The suspect confessed that he concealed the rugs in the hideout after the trailer conveying them was hijacked from its driver at along Ibadan/Lagos expressway. Further investigations later led to another suspected member of the criminal gang identified as Lawal Adeshina who equally voluntarily confessed the role he played in the hijacking and diversion of the goods. The Hijacked DAF Trailer which conveyed the imported Rugs was equally recovered.
Investigation continues with assurances further developments will be communicated." Osifeso said.
In his confession to journalists, one of the suspected hijackers, Moses Olatunji said, "I have been to prison before, though I was in remanded in prison and my crime then was diversion of fabrics and that was last year around may – June and I was there for 8days, after I came out I went back to the business."
"The first very crime I was involved in was the diversion of 550 generating sets and we we're arrested while trying to divert the goods, the DAF truck here is mine, I use it for logistics purposes, on this particular case I was arrested on my way while trying to get a buyer for my truck and the content inside it, which are 103 rolls of rugs, it was the man that help me to register the vehicle, I admit that I commit the crime." Moses said.
In a similar case, suspected armed robbers cum kidnappers were also paraded for allegedly attacked and kidnapped one Alhaji Adamu Issa at one popular filling station located in Elekara Area, Oyo town.
While briefing journalists on the development, SP Adewale Osifeso gave the names of the suspected kidnappers as Abubakar Suleiman, aged 51; Musa Bello, aged 21; Muhammadu Ahmadu, aged 41; Abdulahi Abubakar, aged 45; Taoreed Ibrahim, 41; and Ilu Ahmadu, aged 35.
Osifeso further said, "On 27TH July, 2023 at about 2040hrs, some suspected members of a dreaded armed robbery cum kidnapping syndicate invaded DGK Filing Station located at Elekara area, Oyo with dangerous weapons, attacking one Alhaji Adamu Issa dispossessing him of his mobile phones, cash and some other dangerous weapons, they equally whisked him away to unknown destination."
"The suspects later contacted the victim's relatives demanding for a huge ransom with threats that he (the abductee) would be killed if the huge sum is not paid forthwith. The incident was then reported at the Command for onward transfer to its Monitoring Unit who immediately swung into action with intent to rescue the victim unhurt."
"However, while the operatives were busy combing a thick forest where the victim was suspected to be held hostage, the kidnappers caught wind of the operatives and fled, providing an escape opportunity for the victim unscathed.The victim subsequently provided useful information about his abductors and further discreet intelligence based investigation later led to the arrest of six members of the criminal gang in their different hideouts and they identified themselves as Abubakar Suleiman, Musa Bello, also known as Mujumba, Muhammadu Ahmadu, also known as Jalgo, Abdulahi Abubakar, also known as Nodiwa, Taoreed Ibrahim and Ilu Ahmadu.
"One Black Golf Car with REG NO LAGOS AGL 756 HR which they used to convey the victim away from the scene of crime and another Vibe Pontiac Car with Registration number ABUJA YAB 75 JY which they confessed to have purchased from proceeds (Ransom) of their previous criminal activities were recovered."
"Upon interrogations, the suspects confessed to the crime and series of other high profile armed robbery cum kidnapping attacks they had masterminded at different locations in Oyo State." Osifeso said.
In his confession, Abubakar Suleiman said, "Yes, I am involved in the kidnapping but it was my first time, I've never done anything like this before."
"Please, government should forgive me." Abubakar pleaded.
Exhibits recovered from the suspected kidnappers are one Golf Car with registration number Lagos AGL 756 HR, one Vibe Pontiac car with registration number Abuja YAB 75 JY.