The Chief Of Army Staff (CoAS), Lieutenant General Taoreed Lagbaja has on Monday, in Ibadan, the Capital City of Oyo state declared open the Second Regimental Sergeant Majors (RSMs) Convention 2023.
Lieutenant General Taoreed Lagbaja at the event also stressed that the RSMs as the embodiment of discipline and regimentation in the Nigerian Army, have a key role to play in upholding the professional status of the Nigerian Army in the face of pervasive effects of social media engagements by soldiers.
The Chief of Army Staff who was the Guest of Honour at the event highlighted the importance of the convention as an avenue to brainstorm and interact on how Regimental Sergeant Majors could contribute meaningfully towards achieving his Command Philosophy which is, 'To Transform the Nigerian Army into a Well-Trained, Equipped and Highly Motivated Force Towards Achieving our Constitutional Responsibilities within a Joint Environment'.
Lieutenant General Taoreed Lagbaja who was ably represented at the event by the Commander of Infantry Corps Nigerian Army, Major General Olufemi Oluyede said, "It is in acknowledgement of your pivotal role in actualizing my dream for the Nigerian Army as encapsulated in the Command Philosophy that I authorized the hosting of this very important convention. Besides, the impactful and positive outcomes of past conventions have highlighted the need to sustain holding of this event on bi-annual basis."
He further said, "This convention, besides enhancing your capacity to adequately execute assigned roles, will create conducive atmosphere to secure valuable inputs from RSMs on other appropriate measures the Nigerian Army could adopt to cope with novel administrative challenges. I am well aware that some Nigerian Army policy documents, including Nigerian Army Administrative Policies and Procedures and Nigerian Army Dress Regulations were recently reviewed in tandem with emerging realities."
"It is pertinent to state that RSMs have a critical role to play in ensuring that the least soldier of the Nigerian Army understands and appreciates the contents of these policy documents. It is heart-warming to note that the First RSMs Convention for this year dwelt on an emerging trend that could impact negatively on my Command Philosophy, which is the appropriate use of social media by Nigerian Army personnel."
"Accordingly, the theme of this Year's Second Regimental Sergeant Majors Convention 2023 is "Leveraging Sound Administration for a Highly Motivated Force and Operational Efficiency in the Nigerian Army". I feel elated to observe that the topic captures one of the crucial elements of my Command Philosophy, which is Sound Administration."
"Gleaning from the Command Philosophy, it is crystal clear that one of the major preoccupations of my administration is to improve operational effectiveness and efficiency of the Nigerian Army through effective motivation of troops. Herein lies the importance of sound administration in raising the morale of troops in the field. As the link between officers and soldiers, your role in sustaining discipline and regimentation in Nigerian Army units, formations and establishments, needs no emphasis.With this in mind, I urge you to leverage extant Nigerian Army administrative policy instruments to further improve unit administration in your respective domains."
"As human resources are essential to the success of organizations, sound administration was made a critical component of my Command Philosophy. There is no gainsaying that the Nigerian Army has undergone series of transformational strides in recent years. This has led to a great expansion in almost all spheres in the Nigerian Army ranging from welfare schemes, training, courses, increased manpower and infrastructural development. In the light of these, it is my drive to leverage sound administration to harness resources and opportunities within the Nigerian Army environment to motivate troops and improve operational efficiency in the Nigerian Army."
"I therefore urge you to support this vision by maintaining discipline and ensuring that the cherished Traditions, Customs and Ethics of the Nigerian Army are continuously upheld. These are responsibilities that must be taken seriously. It therefore, requires that you all must be up to date with respect to these responsibilities to cultivates grow and nurture professional and appropriate behaviours amongst personnel thereby contributing to the overall efficiency of the Nigerian Army."
"I am optimistic that this Convention would keep you abreast with latest administrative innovations of the Nigerian Army designed to improve troops' morale and defeat malfeasance among personnel. It is in this light that, I must commend the array of distinguished resource persons put together for this training event. It is also my expectation that, the presence of these notable scholars and senior officers will greatly enhance the discussions at this Convention while finding pragmatic ways to entrench sound administration in the Nigerian Army. I therefore enjoin you to feel free to express your views and have a cross-fertilization of ideas." Lagbaja said.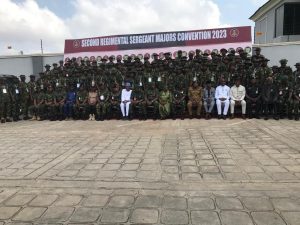 In his remarks, the Chief Of Administration Army, Major General Jimmy Akpor said, "This convention is the continuation of the series of conventions for regimental sergeants Majors of the Nigerian Army.
He said, "It is important for you to constantly be trained, updated and sensitize about new trends of policies and plans of the Nigerian Army.
"Nigerian Army relies on you to ensure that the highest standard of regimentation are maintained by all personnel, I therefore explore you all to pay attention to all the proceedings of this convention." Jimmy Akpor said.