By Odunayo Oluwabukola, Ibadan
Stakeholders in the health sector have agreed that premium must be placed in saving life during emergencies rather than request for police report by medical practitioners before administering treatment.
In their separate remarks the stakeholders said, although medical practitioners must be security conscious in their practice, they must ensure that the needful is done to give at least first aid treatment that may prevent death when emergency cases are brought into their facilities.
The stakeholders including medical practitioners, healthcare workers, health providers, policy makers, nurses among others spoke during the Consumer Empowerment Townhall Meeting on the Patients Bill of Right (PBoR).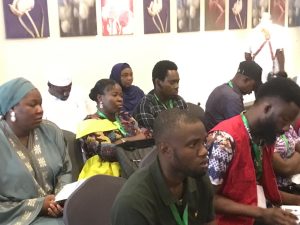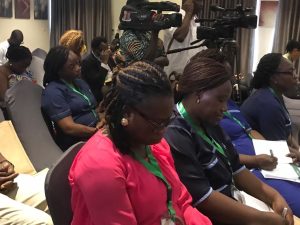 The event, organised by the a non-governmental organization, Ace in collaboration with the Federal Competition and Consumer Protection Commission (FCCPC) in Ibadan on Friday.
Speaking at the event, Oyo State Commissioner for Health, Dr Oluwaserimi Ajetunmobi, urged medical practitioners and healthcare givers across the state to be mindful of their actions and inactions when attending to emergencies.
She said even when such facility does not have the capacity to administer treatment especially in matter that may require police report, the victims must not be thrown out like their life meant nothing.
Dr Ajetunmobi said "Today we are discussing Patients Bill of Rights (PBoR). It is a set of guidelines put in place to ensure that the rights and responsibility of patients are been taken care of. For example, patients have right to access their information about their healthcare, medical condition, treatment outcome and potential risks and benefits that they will enjoy during the period of their medical care.
"Also, patients have access to emergency care and by so doing it doesn't mean when patients are coming to the hospital, we should not attend to them, we should first and foremost show empathy and be compassionate about it.
"For example a patient that is bleeding, if care is not taken, that particular patient can loose his or her life. We can as well stabilise the patient while we pursue the legal aspect which is why the patient is bleeding maybe as a result of gunshot injury or any other thing that might have led to the bleeding.
"So, patient indeed have their rights and the onus lies with our healthcare provider to be able to be able to know the rights every patient has and also the responsibility that backs the right because as they have their rights, they also have their responsibilities.
"Likewise the healthcare providers. We have our own responsibility towards our patients and that is our attitude to them, when we are giving them information, we give so within the confines of what we think they should know bearing in mind that we need to protect the privacy and confidentiality of such information. It is not an information that every nooks and cranny should be able to get.
"The information must be kept confidential where it is needed, except where the cause of care requires a multidisciplinary approach where other healthcare providers are to be involved to be able to take good care of the patients, so we must ensure that we keep confidentiality in cause of treating our patients.
"And as healthcare providers, we should maintain professionalism and our attitude to our patients is very important. The information we are giving can elicit different reactions from different people. If we explain situation to our patients in a way we show empathy, it will go a long way.
Also speaking, the Technical Assistant to the Executive Vice Chairman/Chief Executive Officer, FCCPC, Mrs Morayo Adisa, said the Police have made it clear that police report may not be required before administering treatment but that it is expected that such a case will be reported to the police in case the patient is suspected victim or involved in crime.
She said the Commission might have to facilitate another stakeholders meeting where medical practitioners and security operatives will be brought together to address and resolve the issue, noting that many medical practitioners are still operating under the impression that the report is required before treating patients of suspected cases of crime.
Also in his remarks, Mr Oniriwa Folami, the managing partner of Ace Associates which is the lead consultant on the national action on strengthening the Patient's Bill of Right (PBoR), said "what we are trying to do is to capitalize on the advocacy of the Patient's Bill of Right across the country, it's one of the most significant landmark policies that can truly help to revolutionize the healthcare in Nigeria and we from the public policy standpoint figured that one of the things we can do is to find a strategic relationship like this to help bring the policy to the fore, and see that it's become more operational in healthcare facilities across the country."
"The two days event has been particularly engaging and informative, yesterday we as really good we had a robust engagement, the healthcare providers in that training had an opportunity to share and gave our ideas from different scenarios and it was a deep knowledge sharing and today was also good because it is the first time we will be engaging consumers in some of our previous activities across the country we had interactions with healthcare providers and we've had with consumers but this today's event we targeted strictly the consumers and it was a really a good one, we got a lot of energizers, we have some significant stakeholders in attendance, the commissioner of health was in attendance and some other dignitaries from the health and other ministries, we have the audience and other regular people from the Federal…. We have a lot of take home which include the most important thing is focusing on delivering quality healthcare to Nigerians."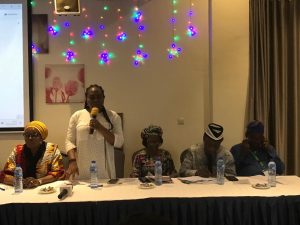 "In the issue of police report before treatment, we have some documents and I have heard it myself that hospitals are no longer request for police report before they can treat the case of emergency and victims of gunshot injuries and this is one our discussions in this engagement today so there should be more advocacy and more awareness on this issue, because first things to do in a situation like that is to safe life, when you safe the patient's life then you can now start thinking of the next documentation, so one of the thing they said is everyone is innocent until it's proven guilty." Folami said.