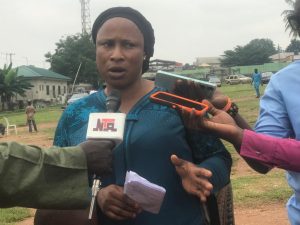 Speaking with journalists, the Executive Director of the HearMax initiative, Dr. Ibraheem Salako, an Audiologist called for proper hearing screening of children under 5 years of age before they get enrolled into school for early detection of the challenge, in order to get early treatment for the affected kids so they can continue to perform optimally in thier academic pursuit.
Dr. Ibraheem also noted that many pupils are in school but could not properly hear what their teachers is teaching them due to lack of hearing aids, he also stressed that government need to take proactive steps in providing hearing screening facilities and hearing aids for students at the Special Schools as most of them have just hearing challenges that can be manage through hearing aids.
Ibraheem in his words said, "Today we are looking at providing hearing aids for one hundred and twenty people and this hearing aids are quite expensive, the total cost of the service we are providing here today is about 200 million naira, so we are looking about 120 people and that is about 240 hearing aids."
"HearMax initiative is a tittle organization in the field of ear and hearing care and is the first charity organization in the field  of ear and hearing care in Nigeria, it was established as a respond to the rise incident of hearing lost in Nigeria, and about five years ago World Health Organization (WHO) released some statistics that show that 8.5million people suffer from hearing loss in Nigeria, so the Hearmax Initiative was established to solve this incident and also provide care for people that have hearing lost in Nigeria, up to 75% of people who have hearing loss actually occur from preventable causes, this are issue that can be solve basic at primary level unfortunately there is lack of access to the care at primary level and a lot of people end up having hearing loss due to preventable causes."
"However, Hearmax Initiative seek to make this care accessible, by going into various communities within Ibadan metropolis testing their hearing, going to schools to test the pupils on hearing loss and to see how we can treat them for the primary care conditions and providing empowerment to people who have developed hearing loss free of charge. Hearing is a solution to hearing loss and unfortunately in this part of the world hearing aids are very expensive, the cost of hearing aid for an average person is between N600,000 to N800,000 so many people with hearing challenges could not afford it and that is why we have brought this to them with the support of our partners Starkey Hearing Foundation."
"HearMax Initiative took a partnership with organization such as "Star Hearing Foundation and some other organizations and they were enable to get support to empower our people to hear, particular they focus on children, so that the children will be able to perform well in school, they can be more productive. So, what we did was to partner with Oyo state Basic Education Board to make it easier for us to conduct hearing screening programs for our pupils across some primary schools in Ibadan and we identified 5,000 pupils with hearing challenges and we asked them to come here today for hearing aids and counseling but unfortunately not all of them were able to make it down here today but our joy is that people of this community with hearing challenges come out en-mass to benefit from this program."
"We have people that brought their kids of less than 10 years of age down here and we've been able to give them hearing aids and counseling, people come for this program as far as Imo state, Delta state, Ondo State and we don't even know how they manage to get the information that we are going to be for them today, It is pity that in our country, hearing loss didn't received more attention because it is silent condition, but we thank God that our initiative, the Hearmax Initiative is now the voice for these people as we are set to give treatment for the primary care conditions that could result to hearing loss and empower people who have been identify to have a hearing loss with hearing aids." Ibraheem said.
While speaking about the challenges faced while bringing in the hearing aids into the country from the international donor, the Audiologist said, one of our major challenges is paying of duty for these hearing aids, these are the device that were given to us free of charge by our partners and they expect us to give it out to the beneficiaries free of charge to as a way of helping them and helping our society at large, but paying for duty on these items is what we want government to intervene, they should help us, government can as well order for these items and subsidize it for our people, this will go a long way in reducing the problem associated with hearing loss in our society."
"Imagine a scenario whereby someone that has hearing loss which cannot afford a three square meals per day, how do you want that person to have money to purchase hearing aids, our government need to look for a sustainable plan to increase access to hearing aid for people who have hearing loss in Nigeria, for children particularly government need to look into identify children early before they go into schools, they should conduct the hearing screening program for every child before they start going to school, this will help in identifying kids with hearing challenges and provide a form of support for them."
"Other important thing is our newborn babies, is high time we begin to conduct hearing screening for them because some kids are born deaf, this kind of early screening will assist us to detect this early and we will be able to fix the problem as earlier as possible." Ibraheem said.
In his remarks, Mr. Lukman Abiodun of Inqaba Biotech, noted that Inqaba is one of the supporting initiative for this program.
He maintained that children with hearing challenges always have difficulties in learning process. He said,  "the aim of this program is to ensure that all kids from young age are able to learn, get educated and development the right social capacity so they can be a productive citizens and better person in future.
"I urge government at all levels to support people with hearing challenges by providing the hearing aids which each cost N300,000 while the cost for two ears is N600,000, if government can provide this items to our primary schools and promote initiative like this maybe once in a year this will go a long way in eradicating hearing loss in our society.
Speaking on behalf of the beneficiaries, Alhaji Abdul Lateef Gbadamosi, aged 72, a resident of Ibadan, Mrs Akintomide Damilola aged 65, from Ondo State, George Ayatasua a middle-aged man from Delta state, in their separate interviews commended the HearMax initiative and other partner agencies for bringing the laudable program to Ibadan, they equally urged government at all levels to emulate the initiative for betterment of the society.