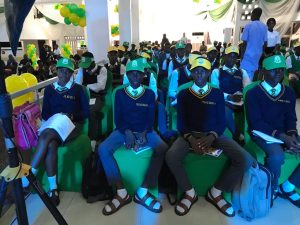 Dr. Dosumu in her words further said, "Our young ones are our future. The youth are the drivers of development all over the world. A well-trained and properly kitted youth population will not only birth an economically viable society but will also engender the safety of all. As the Foundation grows, we pray that we are able to harness the talents and enthusiasm of all well-meaning members of the South-West towards accomplishing the best from this developmental initiative."
"As we can see from the name of the initiative we are launching today, it is about using education and innovation to drive economic development for the good of all. Our young ones cannot hunt the bird of tomorrow with yesterday's stones. This is the age of digital learning and smart jobs. We need to ensure that our youths are equipped with the right education and the right skills which, we believe, will make them not only relevant but competitive in an increasingly technology-driven world. You must have what the market needs before you can sell. That is why we must give our young ones the skills and the opportunity to compete and excel on the global stage. That is the whole essence of today's event."
While stressting the importance of the DEFINED innovation, Dr. Dosumu said, "The initiative targets pupils and students but also, quite naturally, incorporates the potential for the creation of tech hubs for appropriate skills acquisition for young adults. The entire project focuses more on children within the public school system and the less-privileged."
In his remarks, the Group Chairman of Odu'a Investment Company Limited, Otunba Bimbo Ashiru said "Odu'a Investment Company Limited (OICL), and its predecessor the Western Nigeria Development Corporation (WNDC) were established with the objective of promoting economic growth and development. The investments of our founding fathers made helped transform the lives and livelihoods of the people in our various communities."
Otunba Ashiru further said that Odu'a Investment Foundation was therefore established to achieve significant socio-economic impact with a focus on weaving sustainable growth into the fabric of our communities and region in general. As a result, we identified very credible individuals with a track record of impact in their various spheres of influence, and fully empowered them to steer the affairs of the foundation in the right direction."
"Our objective is for the Foundation to achieve the highest possible impact, for the highest possible number of people. A dream that is one step closer to reality today as we launch this exciting and high impact Odu'a Investment Foundation Project. The results we are seeing in such a short period of time are a testament to the great success we believe the Advisory Council will achieve."
"In line with the mission of the Odu'a Investment Foundation which is to expand educational opportunities and promote youth development and information technology in Southwest Nigeria," the foundation is therefore launching the "DEFINED' project today. The Project which is an ambitious campaign, will take digital education and opportunities to all the 137 local governments areas in southwest states of Oyo, Ondo, Ogun, Osun, Ekiti and Lagos."
"The youth are at the forefront of the adoption of digital technology, and have the highest potential to benefit from what has become an increasingly evolving, and fast paced digital world. This Project will help position Yoruba youth for the digital age, by providing digital education, and creating opportunities for them to hone these skills in a supportive environment. With your support, we can achieve these objectives. With your support, this program has the potential to provide an opportunity of a lifetime to many young people across the region by creating our own digital revolution." Ashiru said.
The keynote speaker, Professor Seun Kolade, who conceived the project idea maintained that Digital Education For Innovation and Economic Development is a timely project aimed at upskilling south west Nigerian youth, captivating them for digital revolution.
Professor Seun Kolade highlighted some primary objectives of the DEFINED initiative as to develop comprehensive curricular that spans the first 12 years of education, from Primary 1 to Senior Secondary School 3, in line with the Nigerian education system and in partnership with the relevant state agencies.
He maintained that the curricula will integrate digital skills and technology across subjects, ensuring that south west youths are equipped with relevant knowledge and competencies from an early age. Launch coding clubs in primary and secondary schools across western Nigeria, which will serve as platforms for integrating the curricula contents with extracurricular activities, these clubs will immerse young minds in the world of digital technologies, fostering enthusiasm and interest in digital skills.
Oyo State Governor, Engr. Seyi Makinde was represented at the event by the Secretary to the State Government Prof. Olanike Adeyemo, the state commissioner for education, Prof. Salihu Adelabu, Ogun State Governor, Dapo Abiodun was represented by the State SSG, Chief Tokunbo Talabi,Ekiti State Governor was represented by Mrs Habibat Asubiaro, Lagos Perm Sec. Cabinet Office, Mrs Tolani Oshodi, represented Lagos state Governor Babajide Sanwo Olu, Ondo State Governor was represented by Dr. Olusegun Aina.
Other dignitaries at the event are Senator Femi Okunrohunmi, Pa Ayo Adebanjo, Immediate chairman of Odu'a Investment Limited, Prince Adebayo Jimoh, Chief Iyabo Apanpa, Akarigbo of Remo Land, His Imperial Majesty Babatunde Adewale Ajayi, among others.
While schools in attendance were International school Lagos, Heritage School Ogun state, students of Wesley College of Science Ibadan, Emmanuel Oladipo Alayande School, Ipaja Junior College, Liberty College Lagos, J-Academic Lagos, Olivet and Ladigbolu Schools Oyo, among others.