Three POS Operators, Seven Others Paraded In Ibadan For Terrorizing Lagos/Ibadan Expressway
***As Police Recovered Four Ak-47 Rifles, N7.5m, Others
By Our Reporter
Some
POS Operators

have been paraded in Ibadan for terrorizing

Lagos/Ibadan Expressway

.

Naijanewshub.com.ng reports that Oyo State Police Command under the able leadership of the State Commissioner of Police, CP. Adebowale Williams has on Thursday paraded three Point of Sale (POS) operators alongside seven other suspected kidnappers terrorizing Lagos/Ibadan Expressway.
The POS operators and other suspected kidnappers according to Oyo state Police Commissioner, CP. Adebowale Williams are Mohammed Salfa, aged 20, Muhammed Bello, 28; Usman Hassan, also known as Yellow aged 22; Babangida Buhari Awalu, 34; Kabiru Aliyu also known as Dangata, 25; Mikailu Yahaya, aged 25; Muhammadu Umoru, 30; Ayanwola Samson Gbenga (POS Operator) aged 22; Adewuyi Adewumi Sunday(POS Operator), aged 34; Rafiu Abdul Majeed (POS Operator) aged 40.
The suspects were paraded alongside with other suspects at the state Police Command Headquaters Eleyele Ibadan, the Capital City of Oyo state, with the sum of seven million, five hundred naira (N7.500,000.00), four AK-47 Rifles, 75 AK-47 live ammunition, two pairs of military camouflage and one mobile police beret used for their criminal activities.
Briefing journalists, CP. Adebowale Williams said, "On 28th October, 2022 at about 1700hrs, some members of a dreaded kidnapping syndicate who were reportedly armed with AK-47 Riffles and some other sophisticated firearms attacked and kidnapped an Academic Don and Seven other persons who were traveling along the Ibadan end of the Lagos/Ibadan expressway.
He maintained that the dare-devil gunmen equally attacked a team of responding Policemen while heeding the distress call in a bid to rescue trapped victims on the highway, this in turn led to the death of an Inspector of Police who paid the supreme price in a fierce gun duel.
The kidnappers later whisked the victims away to an unknown destination through the thick forest along the said Ibadan/Lagos expressway while their relatives were contacted for monetary demands in exchange for their liberty.
In one of the most coordinated reconnaissance operations in the history of the Command, all Command's Operational, tactical and Intelligence assets were collapsed and fused as one to attain the goal of immediate rescue of the abductees unhurt and the apprehension of their abductors for prosecution.
Consequent upon the above, the Oyo State Police Command in a technological intelligence-aided operation aided and with necessary support from Amotekun (the Oyo State Security Network) and other communal partners, apprehended the duo of Babangida Buhari Awalu and Kabiru Aliyu both commercial motorcyclists and couriers for the Kidnap syndicate while retrieving "exchange money" for other members of the syndicate around Ojoo Area, Ibadan.
Further detailed and painstaking investigations led to the arrest of (5)Five members of the criminal gang who identified themselves as Mohammadu Salfa 'M', Usman Hassan A.K.A Yellow Putel, Muhammadu Bello 'M' and Mikailu Yahaya 'M' alongside the Cash sum of (N7,500,000) Seven Million, Five Hundred Thousand Naira which was part of recovered monies from the abductors.
It is worthy to note that some of the abductors in a carefully arranged identification parade in line with professional standard practices were identified by the victims from the incident at full glare.
Further escalated findings led to the arrest of (3) three additional suspects who gave their names as Adewuyi Adewumi Sunday, Atanwola Samson Gbenga, and Rafiu Abdulmajeed Ayanwola from GBUGBU area of Kwara State and AGO-ARE in Oyo State respectively.
It was also discovered that monies received from the victims were moved into the bank accounts of these (3) three additional suspects for onward distribution to other members of the kidnapping syndicate.
CP. Adebowale said, "These (3) three additional suspects, Adewuyi Adewumi Sunday, Ayanwola Samson Gbenga, and Rafiu Abdulmajeed have all since voluntarily confessed to their complicity in the criminal activity and also confirmed that the transactions were made into their Bank accounts via Point of Sales terminals at choice locations to evade arrest.
"The Manhunt for other members of the criminal syndicate continues as further development will be communicated accordingly." Adebowale said.
Exhibits recovered from the suspects are Four (4) AK-47 Rifles, Seventy five (75) AK-47 live ammunition, two pairs of military camouflage and one mobile police beret.
One of the suspects Sunday Adewumi, a POS Operator, who spoke with journalists at the Command Headquaters said, "I was arrested because the sum amount of money was transfered into my account."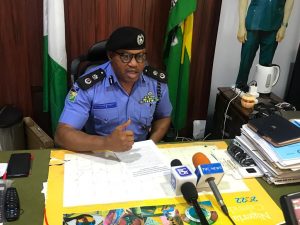 "I don't know the guy is a kidnapper, it was when I was arrested that I got to know that he's a kidnapper, I was arrested because of the sum of N10.7m that I received on their behalf and this is the first time I'm receiving such amount of money on their behalf, the guy told me that he is a cow dealer that he's expecting some payment from his customers and requested for my account details, this is someone I know and I know his parent too and that is why I gave him that audience then to make use of my account. Sunday said.