The Director of Abisal Foods  Foundation, who also doubles as the Chief Executive Officer and Managing Director (CEO/MD) of Abisal Megatop Limited, Ambassador Saidat Omowumi Dauda has on Wednesday advised students of Baptist Basic School, Ayetoro and Irepodun Community High School Ilero both in Kajola Local Government Area of Oyo state on the importance associated with frequent visit to the school library.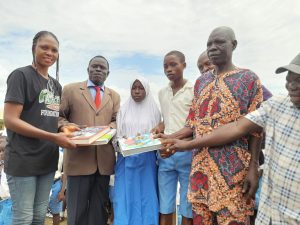 Speaking shortly after the donation of textbooks to the schools, Ambassador Saidat urged the students to let their books be their friends.
She also noted that the gesture is part of her activities in giving back to the society.
Recall that Abisal Foods Foundation recently trained youth, middle aged men and women, including some secondary school students and market women, farmers and adults in Ibadan on food processing,  packaging, networking and marketing strategies.
She said, "I really appreciate the Local Inspectors of Education officials for their support and  contributions which has led to the successful of this occasion.
"I also thanked the chairman of Association of primary school head-teachers of Nigeria (AOPSHON) of the school, the school management, the teachers and pupils for their hospitality."
While advising the pupils on the need to focus on their academic pursuit, Ambassador Saidat said,
"I'm using this opportunity to encourage you all to focus on your education. Don't emulate those that are looking for short cut to success."
"Education is so important in life, so I want you all to cultivate the idea of going to the library because you discover more by reading books." She said.
In their separate remarks, the local Inspector of Education, Mr Abideen R.A, the Headmaster of the school, Mr Ayankosho Jacob, speech, the Chairman of Association of primary school head of the Nigeria in Kajola local government, Comrade Oladiran Thomas all commended the Abisal Foods Foundation for her efforts in complimenting the efforts of the State Governor, Engr. Seyi Makinde towards ensuring free adequate and quality education for each student in the state.
They lauded the foundation and the local inspectors of education for chosen their schools for the donation of the textbooks.
The Deputy Director of the foundation, Mr. Mustapha Jelili Lanre and the Head of operations of the foundation, Miss Zainab Dauda
told the gathering that education has gone beyond the curriculum of the subjects.
They urged the pupils to widen the scope of their knowledge by reading different books giving to the school.
"Have faith in your abilities and believe in your vision, your vision is achievable. Zainab said.
However, Mr. Abideen R.A promised to always check on the schools (Beneficiaries) to know how useful the books are to them, he also charged Ambassador Saidat to continue her efforts in giving back to society.