2023: Accord Party Officially Affirms Adelabu, Shina Peller, Faozey, Kola Daisi Others As Guber, Senatorial Candidates
By Kazeem Awojoodu, Ibadan
Accord Partyhas officially affirmed Adebayo Adelabu as its gubernatorial candidate.
Naijanewshub.com.ng reports that Accord Party, Oyo state Chapter has officially affirmed Chief Adebayo Adelabu as its governorship candidate in Oyo state ahead 2023 general elections.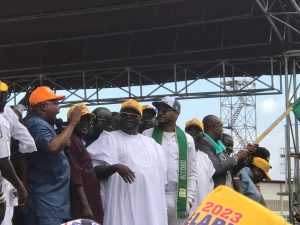 Also affirmed by the party at the Liberty Stadium Oke Ado Ibadan on Wednesday are Hon. Shina Peller, the federal representative representing Iseyin/Itesiwaju/Kajola/Iwajowa, who is vying for Oyo North, Nurudeen Faozey(Oyo Central), Kolapo Kola-Daisi(Oyo South) as well as some House of Representative candidates led by Hon. Abass Aleshinloye.
At the event that was witnessed by mammoth loyalists of Accord Party, Hon. Ayodele Oyajide stepped down for the former Central Bank Deputy Governor, Chief Adebayo Adelabu as the Oyo State Gubernatorial Candidate at the forthcoming 2023 general elections.
Dignitaries at the affirmation event also include Hon. Nalado Muhammed (National Chairman), Hon. Bukola Ajaja , National Secretary, Hon. Shina Peller(Representing Iwajowa/Kajola/Itesiwaju/Iseyin), the state Chairman of the Party, Kolade Ojo, Dokun Babatunde Vice Chairman of the party in South West, Hon. Abass Aleshinloye former ALGON chairman in Oyo State among others.
The National President of Accord Party, Hon. Nalado Muhammed in his address said, "Accord Party is not a new party in Oyo state and in Nigeria as a whole and when the time comes to elect your leader I believe it is not going to be a difficult task for you to locate your party on the ballot paper because it is on the top of the paper, I hereby nominate Chief Adebayo Adelabu as the governorship candidate of Accord Party on Oyo state come 2023 general elections.
"I urge all the party members that are aggrieved to embrace peace and let us be in one Accord, Nigerians need a true change, we are seeing what we are seeing today because we made a wrong choice then, let us come out in 2023 and made a right leader." Nalado said.
Adelabu in his acceptance speech said this is our time of progress and this is our time to move on to the next level in Oyo state, for a new dawn has come, I thank all members of Accord party and the change you're yarning for is here, our coming to Accord Party is not by accident, this will be the first time that Accord Party will produce the governor for Oyo state, we are not only winning the gubernatorial but all the Senatorial, house of representative and state house of assembly seats.
"We need oneness and progress to win the election, Adelabu cannot win it alone and I urge all the aggrieved to come together, the voice of the people shall be supreme at the coming election and I believed they want me to be their governor, whatever we can do to make our people come together let's do it, the work has started and by the grace of God come 2023 I shall be swear in as the governor of Oyo state.
"I shall give the masses free education, security, economy, free flow of transportation in our cities. Very soon we shall start door to door campaign across the state, today is not for campaign but I can assure you that we are going to win at the next election. Adelabu said.
Earlier in his address, the state chairman of the party Hon. Kolade Ojo said, In compliance with electoral law of the constitution of the Federal Republic of Nigeria we have gathered here today to in substituting our governorship candidate with Chief Adebayo Adelabu.
"Hon. Ayodele Oyajide has stepped down for Chief Adebayo Adelabu as the governorship candidate of our dear party, and I urge everyone of us to go and start working for the progress of our party." Kolade said.
naijanewshub
Send an email
August 3, 2022