2023: Don't Allow Your Reports To Worsen Current Nigerian Situation, Don Charges Journalists
***As Deputy Governor, Ladoja, Sunmonu, Others Attend Oyo NUJ Press Week
By Kazeem Awojoodu, Ibadan
Prof Isaac Albert has charged
journalists

not to add to tension through their reports.

Naijanewshub.com.ng report that journalists have been urged to be very careful in their reports in order not to worst the present situations of the country most especially as the country approaches the general elections slated for year 2023.
Speaking as a guest lecturer at the official opening of Oyo NUJ Press Week, Prof. Isaac Olawale Albert, a professor of African History, Peace and Conflict Studies at the University of Ibadan on Monday urged journalists not to add to the tension on ground through their reports.
Prof. Isaac while speaking on the theme of the event, "Violent Extremisms and Prospects Of The 2023 General Elections" maintained that journalists have a role to play at the forthcoming general elections.
He said, "Journalists must ensure that whatever they are reporting will not add to the tension on ground, there is need for our elders to bring voices together most especially with the presence of numerous radio stations in Ibadan."
"We have too many radio stations in Ibadan metropolis now, and there is need for our leaders to educate the operators in order to ensure that their stations are not use in inflaming the tension, they should put up a framework in which they will be operating upon. Don't let us in the disguise of projecting our principals who are in most cases are the proprietors of our media houses creating tension for members of the public or worsen our present situation."
"Now it is as if the politicians are the one setting agenda for us, instead of us setting agenda for them, violence is one of the instruments politicians may want to use during elections, it is our duty as journalists to lay more emphasis on that aspect in our reports."
"Resources can be another cause of election violence, it is our duty as journalists to ensure that the security agents contribute to the credible elections. We need to step up our games as journalists, it is important to know that we need a peaceful elections that will enthrone good and quality leaders that will move this country forward."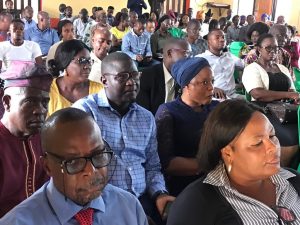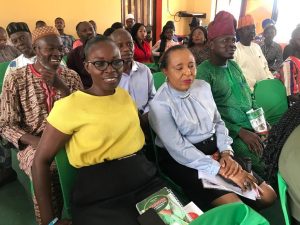 "We don't have problem with the current system of government we are running, but the problem we have are the actors running the system, so it is time for us to hold them accountable and responsible by asking them questions, when the government are not doing the right thing we should ask them questions."
"We should ask questions, for instance we can organised a debate for the presidential candidates and ask them how they are going to solve insecurity challenges, let us ask the likes of Asiwaju Tinubu and Atiku how they are going to support the creation of state police, by asking those questions they will see the reasons for them to come to government with policies that will move the country forward." Albert said.
In his goodwill message, the state governor, Engr. Seyi Makinde who was ably represented by his deputy, Barrister Abdulroheem Adebayo Lawal said the topic of the lecture is very apt most especially as the country approaches general elections.
He said, "Journalists must come out with full force to deny injustice at this time, most especially as we move forward into general elections."
"Operation Wet Eh" started from here in Ibadan then, journalists must ensure they do all they can to prevent such sad occurrence in this coming general elections. They need to engage the masses on the need for them to vote for credible leaders and they must also educate them on the need to vote peacefully." He said.
The former governor of the state, Senator Rasidi Ladoja, who also doubles as the Otun Olubadan of Ibadanland, in his goodwill message maintained that it is very obvious that Nigeria have series of challenges.
He said, " Until we have a political institutions that is control by the people, this is the only way out of our problems, the institutions must be run by us, while talking about the roles of the journalists, we must also talk about the roles of political gladiators too, we must ask questions from our leaders, we must cultivate a culture where people will ask questions from their leaders, we have to cultivate a culture where people will own institutions, with this people will begin to ask questions and by doing so, we must hold our leaders accountable and responsible for their actions and this will move our country forward."
"We have to find a way of solving this big problems battling with our country, all our institutions have been destroyed, everything is no longer working, we have problem, today the minimum wage cannot buy a bag of rice in the market, this coming 2023 elections should be a make or mar for Nigerians, we need to do it right this time, there is no sector that is doing well in this country, we can do it better if we know what we are doing. My question is do we really know what we are doing at all?
"Journalists must be ready to save Nigeria this coming elections, there is no institutions that is perfect, let our own system of government work for us, journalists have more to do by educating the masses on the need to them to vote into power credible leaders that will move our country forward. Senator Rasidi said.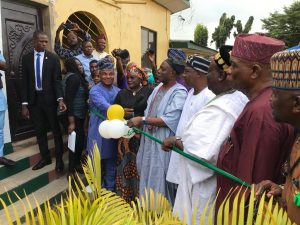 Highlights of the event are the official open declaration of Oyo NUJ Press Week by the deputy governor, Barrister Bayo Lawal on behalf of the state governor, Engr. Seyi Makinde, the commissioning of the fully equiped ICT center by Senator Rashidi Ladoja, while the event was graced by Senator Monsurat Sunmonu, the Mother of The Day, the Royal fathers of Day, His Royal Majesty, Oba Abdulrauf Adebimpe Oladoyin, the Onitede of Tedeland, the State Commissioner for Informations, Culture and Tourism, Dr. Wasiu Olatunbosun, the Chief Press Secretary to the State Governor, Mr. Taiwo Adisa, among other.