FGM: I'm Informed That People Are Now Using Cuttings For Ritual Money, CEGWAD President Titilayo Adefioye Reveals
Kazeem Awojoodu, Ibadan
CEGWAD President had expressed shock over the usage of
FGM

cuttings for ritual money.

Naijanewshub.com.ng reports that Government and partner agencies on eradication of Female Genital Mutilation (FGM) need to step up their campaigns on the need for populace to put an end to the menace that are affecting the women, most especially at childbirth which has resulted into increase in maternal mortality and infant mortality rates in the state and Nigeria as a whole.
NaijaNewshub.com.ng reporter who monitored FGM campaign activities of the Center for Grassroot Women Advancement and Development at the Asunnara and Abidioki communities in Ibarapa North Local Government of Oyo state on Thursday reliably gathered that some residents of the villages have now settled for the usage of the cuttings from the clitoris for ritual money making.
Speaking with Newsmen during the campaign, Mrs. Titilayo Adefioye, President of the Centre for Grassroots Women Advancement and Development(CEGWAD) confirmed the sad incident.
She said, "What really led to our campaign here today is that, we were told during the people of the these communities are still practicing FGM secretly because the flesh that is being cut from the clitoris is being used for money rituals".
"You know that gender inequality is so rooted here. You can see it when we came in here even in thier sitting arrangements and in so many other places that we've worked.  We were told that the husband will command the woman or take the baby forcefully because the woman at the period of birth would have lost her strength and thus be defenseless against the man".
"The issue is even worse that the people who told us said we should not mention their names for the sake of anonymous. We have surveillance here and they are meant to watch the people and make sure that if they hear the cry of any baby from any house at anytime, they should go there and ask what the matter is. But you know our people, they might be covering themselves because they do not want to offend one another, though I know that as time goes on, they will understand much better."
"We are the sub recipient of abandonment of FGM handled by Centre for population and reproductive health, we are working for UNFPA and Canadian Global Affairs. I joined the project 2001 and we've been to several communities and we've created awareness on FGM and cutting and people really understand it.The project has about five phases, every community, we always hammer it to their hearing that FGM must be stopped."
While speaking on what the state government need to do to address the issue. Mrs. Adefioye urged the  state government to put in more intervention.
She said, "the state government should not relent. There's much to do. There's a community called Afua, when they heard about what we are doing, they came to us and told us that there are about 50 villages in Afua but the issue there is that they do not have a single primary health care centre. I want to recommend that Oyo State should please come to their aid especially by bringing them primary health care centre. As a whole, Oyo State should put in more effort and intervention in the eradication of Female Genital Mutilation and cutting."
In his reactions to the level of circumcision in the community, Chief  Idowu Aderonmu, The Jagun of Asunnara Community said, "since we met this in the hands of our forefathers, we've always thought it to be a good thing but when the health practitioner came, they enlightened us and educate us on the problems that FGM can cause for the female child.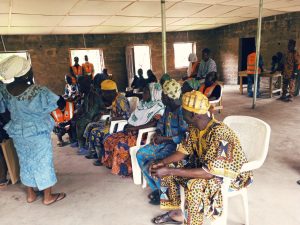 "We have also realized what they were saying is true and we are happy they brought the programme here. We are grateful, we are also ready to stop it and we've announced it that they should stop female genital mutilation that anybody that do against it will face the wrath of law. We appreciate the health practitioner because if they didn't bring it we will still be in darkness, they will always move forward." He said.