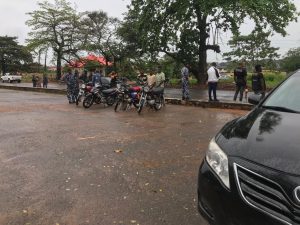 Adewale Osifeso who briefed journalists at the Police state Command Headquarters Eleyele Ibadan on behalf of the State Commissioner of Police, CP Adebola Hamzat said, "on 06/09/2023 at about 1500hrs, sequel to series of complaints from members of the general public about a man who has been parading himself as a serving Commissioner of Police and in some instances as a serving Assistant Inspector General of Police to unsuspecting members of the public using fake identities to illegally extort huge amounts of money from Members of the public.
"However, the Command Monitoring Unit embarked on a discreet human intelligence gathering to demystify the mystery man, (the suspect), hence the  apprehension of a 60 year old impostor who identified himself as ADEYEMI ISAAC ADEBOLA was arrested at his hideout within Oyo town."
"Upon interrogation, he confessed to have been using the fake identity for over a decade and explained that apart from extorting money from members of the public, who sought his assistance on police related matters, he has equally used the fake identity to gain so many undue and underserved advantages from junior and senior police officers."
"Upon his arrest, so many of his victims have identified him while recounting experiences of how they parted with huge sums of money to the suspect under the guise of actually dealing a real Commissioner of Police or an Assistant Inspector General of Police."
"Investigation is still in progress. Further developments will be communicated later." Osifeso said.
While speaking with journalists the suspected impersonator confessed to the crime. He said, "I lied by calling myself Commissioner of Police, I did it just to help people who have issue with the Police. I will never do that again if the authority pardon for this offence.
He said, "I only helped people four times with my fake identity as police Commissioner and Assistant Inspector General of Police and those people never come back to say thank you."
"I never for once worked as a Police officer, before my arrest, one of those who used to assist me who is a welder approached me to assist his brother who had issue with Police, and I called Police station telling them that I'm the AIG but the guy never come to appreciate what I did for him. I regret my action, and I plead for mercy from the authority, I will never do it again." He said.
Similarly, the state police public relations officer, SP Adewale Osifeso paraded a set of suspected armed robbers that hijacked and diverted a DAF truck fully  loaded with five thousand packs of alcohol beverages.
Osifeso while parading the suspects alongside others gave their names as Mustapha Afolabi, aged 68, Amodu Jimoh, aged 35, Solomon Awoleye, aged 56. He further said, "On 07/09/2023 at about 0200hrs, upon credible and actionable information was received at the Command Monitoring Unit, Eleyele, Ibadan that some members of a criminal gang who specialize in Hijacking and Diversion of Vehicles loaded Trailers loaded with valuable items have just hijacked a DAF Truck loaded with some quantity of Alcoholic Drinks  along Ibadan/Lagos Expressway."
"Sequel to this information, a team of operatives attached to the Command Monitoring Unit swung into action and in the process two members of the suspected armed robbery syndicate who later identified themselves as MUSTAPHA AFOLABI 'M' and AMODU JIMOH 'M' were arrested in connection with the crime."
"Upon interrogations, the suspects confessed to the crime and immediately led the operatives to a desolate spot within Ibadan metropolis where the Hijacked DAF Truck with REG NO KTU 384 XG carrying a 40-feet container loaded with Five Thousand Packs of an Alcoholic Beverage reportedly worth millions of Naira was recovered.
The syndicate's criminal receiver who gave his name as SOLOMON AWOLEYE 'M' was equally arrested in connection with the crime."
"The suspects confessed to series of previous armed robbery operations they had just carried out in the area.
Investigation is still in progress. Further developments will be communicated later."
Exhibits recovered from the suspects are DAF trailer with registration number KYU 384 XG, Five thousand packs of alcohol beverages.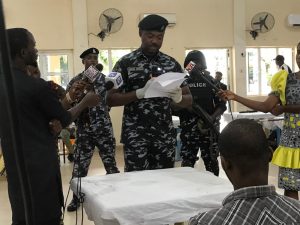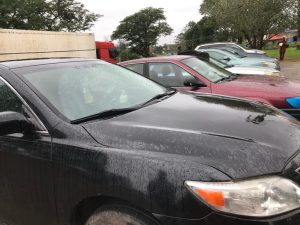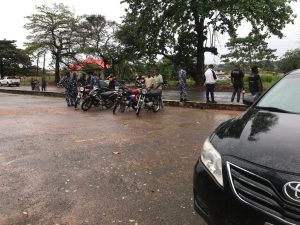 Osifeso however maintained that seven exotic cars, six guns, four live cartridges, one empty cartridge, one expended cartridge, four cell phones, five motorcycles were among items recovered and displayed as exhibits from various suspected criminal syndicate that were arrested for their alleged involvement in series of criminal activities across the state.