In Ibadan, Omotayo Charity Foundation Sensitises Women on Safe Pregnancy, Delivery
By Admin
The Omotayo Charity Foundation, an offshoot of the Omotayo Maternity Home (OMH), Oke-Ado, Ibadan, Oyo State, has gone all out to sensitise women on the importance of reducing the rate of maternal mortality in Nigeria, maintaining that no woman should die while bringing life to the world.
Naijanewshub.com.ng reports that the awareness rally tagged: Maternal and Child Health Walk, started at the OMH, was taken through Oke-Ado to Oke-Bola, Ogunpa, Agbeni, Beere and Molete areas of Ibadan, before terminating at the starting point, the Omotayo Maternity Home.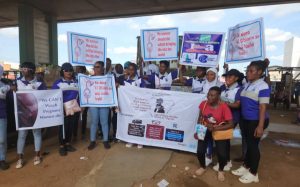 Speaking after the rally, the Head of the OMH, Mrs Peju Agunbiade, a nurse, Consultant Midwife and Fertility Consultant, disclosed that the rally was inspired by the need for reawakening and increased awareness based on the new knowledge she had gathered through reading and researching over the past few years.
She emphasised that it is wrong for a woman to die while having a baby, not to have adequate antenatal care and not to go to the hospital for antenatal care because of financial constraints.
Agunbiade stated: "The project initially was named: Free Antenatal Care and Free Delivery, and that has been going on for two years but now we've changed the slogan to 'reducing maternal mortality rate in Nigeria, no woman should die while bringing life to this world', which is what the project is all about."
She disclosed that she was motivated to embark on the project when she relocated to Nigeria and discovered the alarming rate of maternal mortality in the country, did some investigations and decided to make a difference and do something about reducing the mortality rate in Nigeria.
The OMH Head said: "So, just before my 50th birthday, I told myself that instead of having a very big party I can actually raise funds with my friends and put the money together and start providing free antenatal care and free delivery and that was how it started.
"It's been great, it's been good, extremely challenging as well but the joy that I derive from doing the project and the support I get from friends, family and my wonderful donors keeps me going," she enthused.
Agunbiade identified some of the challenges facing the project as: some women not coming to the hospital prepared and having their bags packed with basic things they need, women who can afford to pay pretending they cannot out of greed, those who abuse the opportunity the project presents by getting pregnant frequently, and lack of input from government, among other challenges.
She noted: I've tried to reach out to the government but you know in Nigeria you've got to give tips and I've promised myself that I'm not going to do that because I want to have access to someone. I'll just keep doing what I'm doing so I don't get distracted. Why would I tip my way through to seeing someone when I'm actually helping government? Delivery in government hospitals is not free."
Agunbiade revealed that people tend not to value and appreciate the things they get for free and try to abuse the opportunity, consequently preventing those who are genuinely in need from getting help, noting that to prevent such, the hospital came up with a policy saying any woman who comes with a fourth pregnancy and second free delivery would pay.
Some of the staff nurses who work in the hospital, Oluwatoyin Oluwatayo and Zainab Olatunde, noted that working at the hospital has been great and beneficial to them because they have gained a lot of experience and learned so much when it comes to delivery and how to relate with patients in a gentle manner, saying they love the initiative embarked on by the hospital and still have much more to learn.
Dasola Noah, a beneficiary, lauded the OMH project, saying she had gone there to visit a patient, was impressed by the operations there and decided she would have her baby at the hospital if she gets pregnant, not knowing she was already pregnant.
She said: "The nurses are kind to us and treat us well. Omotayo (Mrs Agunbiade) herself was very good to me. Even though she was not around, she spoke to me on the phone and encouraged me. I had a cesarean section but we were asked to go without paying the N250,000 bill."
Another beneficiary, who had a set of twins at the hospital, Stella Akinola, stated: "She has been very kind to me since the first day that I came to the hospital. She has been like a mother to me. She asked me to move in to the hospital and was taking care of me till the time I gave birth because my pregnancy was at risk. She was the one that paid for my surgery."
A 2022 United Nations Children's Fund (UNICEF) report titled: "Situation of Women and Children in Nigeria", states that the country records 576 maternal mortality per 100,000 live births.
Also, over the past five years, infant and under-five mortality rates have remained steady in Nigeria, at 74 and 117 per 1,000 live births, respectively.