Ogo Oluwa, Afijio LGAs Smallholder Farmers Receive Pumping Machines, Feeds, Others To Boost Food Production
•••as OYSADA, Oyo N-CARES continue distribution of farm assets to beneficiaries
By Admin
Smallholder farmers in Ogo Oluwa and Afijio local government areas of Oyo state, comprising genuine local farmers and the Nasarawa trained YEAP members who received farm assets materials from the state government have been praising and commending the state Governor, Engr. Seyi Makinde for assisting them with needed materials that will enhance their food productions.
Naijanewshub.com.ng reports that the state Action Recovery and Economic Stimulus, (Oyo N-CARES) Project under Oyo State Agribusiness Development Agency (OYSADA) in the last few weeks have commenced the distribution of farm assets to farmers that were greatly affected by the covid-19 to mitigate the effect of the pandemic.
Speaking with journalists during the distribution of pumping machines, knapsack sprayers and farm kits at Ogo Oluwa local government Secretariat, Ajawa, Ogbomoso, Prince Bello Ajibola, the Director of Agric of the local government commended the state government under the leadership of Engr. Seyi Makinde for the intervention.
He said, "This is not the first time that this government under Engr. Seyi Makinde will be supporting us through OYSADA, Oyo N-CARES project, if I'm not mistaking this is the third term our farmers are receiving farm assets from this government and this showed that Governor Makinde really care for us."
"Our major occupation here is farming, and all these farm assets like the pumping machines and its accessories distributed to our farmers that specialize in vegetable crops will surely increase their productions and enhance their farming activities especially during the dry season."
"This gesture from the Governor is a clear indication that Engr. Seyi Makinde is a farmers friendly person, and we really appreciate him for his kind gesture, this will surely go a long way in boosting the food production in the state and Nigeria at large." Bello said.
While charging the beneficiaries to make good use of the farm assets, Hon. Sunday Adetunji, Supervisor for Agric who represented the local government chairman Hon. Ojo Oluwaseun, also lauded the farm assets distribution projects and commended Engr. Seyi Makinde led administration in the state for the prompt intervention project.
He said, "The beneficiaries should see this as an avenue to do more for their immediate communities by providing more food for the society."
Akinpelu Oluwasogo Sunday, N-CARES facilitator in Ogo Oluwa local government said, out of hundred farmers that were identified as genuine farmers by OYSADA officials who have been coming here regularly to train our framers, we have 100 farmers on the list from OYSADA as beneficiaries from our local government while 60 of them are local smallholder farmers that specialize in vegetable, maize and cassava  farming, the rest 40 are the YEAP members.
"Last year in the first tranche of this project, 70 farmers, including 50 smallholder farmers and 20 YEAP beneficiaries were given two packs of fertilizers and 25 bundles of cassava stems because majority of them are cassava farmers and they also collected a bundle of chemicals while they also received training on how to make good use of the items distributed to them to enhance their farm produce."
"Today we have our regular farmers which are 10 in number while our YEAP farmers are 20 and 10 farmers that specialize in vegetable crops are going home with pumping machines today, while 20 are going home with two knapsack sprayers and two kits each. These kits comprises two protective overall, 2  gloves, 2 protective boots, 2 protective eye glass and face mask." Akinpelu said.
Some of the beneficiaries that spoke with journalists in their separate remarks could not hide their feelings as they all commended the state government over the intervention project.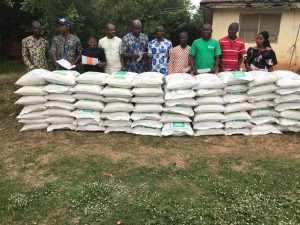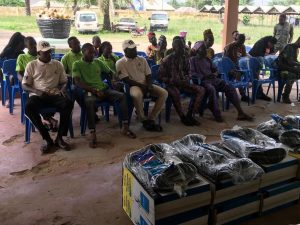 Mr.Gbadamosi Toheeb Babajide, an indigene of Ajaawa, who came  from ward 1, who also doubles as one of the YEAP members that was sponsored to agribusiness training in Nasarawa state by the state government who specialize in Maize and Cassava farming, said, today I'm so happy for what the state government has done for me and my other colleagues for I have just  received  two knapsack sprayers and farmer's kits that are so costly in the market, If I want to buy this materials at the market now I know how much it will cost me and the state government is here to give me free of charge to support my farming activities and I was given not just one but two overall and other kits, including two knapsack sprayers one for chemicals spraying and the other one for fertilizers application on my farm just to enhance my crop productions, I really appreciate and I promise to make good use of the items."
Akinboro Oluwadamilola, a maize and cassava farmer, also YEAP member from ward 1 in Ajaawa, who went home with two knapsack sprayers and kits prayed for successful administration of Engr. Seyi Makinde, she also commended the state government over the laudable project, she maintained that the project is so transparent.
Mrs. Ajao Felicia a local smallholder farmer from ward 3, Alausa Oke Oba in Ogo Oluwa local government, who specialize in vegetable crops received a pumping machine and pump accessories noted that the machine will be of.a great help in boosting her vegetable farming activities.
In Afijio local government Secretariat at Jobele, no fewer than ten poultry farmers went home with ten bags of feed mills for their birds, while 20 went their various homes with knapsack sprayers and farm protective kits.
In their reactions, Mrs. Oduola Afusat Tunrayo, a cassava and maize farmer, from Jobele town and Mr. Olaitan Egberinde a poultry farmer from Ilora town of Afijio local government commended the state government over the intervention project.
In his reaction shortly after the distribution of the farm assets, the state project coordinator of Oyo State CARES for result are 2, that has to do with food security in the state, Mr. Bamigbola Kolawole Adewumi, who was ably represented at the distribution programme by Mr. Shola Popoola, a principal officer at OYSADA, Dr. Ayedun Bamikole, the Monitoring and Evaluation Officer for the state N-CARES, Ann Oyije Odaudu information officer of the state N-CARES, maintained that the distribution project will surely cut across all the 33 local government areas of the state.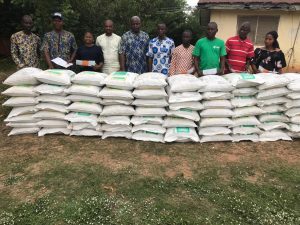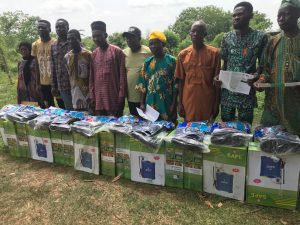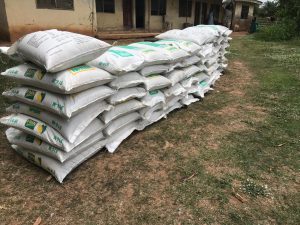 He stressed that the state government through OYSADA and the state N-CARES project is aimed at supporting the smallholder farmers across the state who were affected by the covid-19 pandemic, as well as to boost the local food production across the state.