Oyo/Osun Customs Command Seizes Donkey Skin, PMS, India Hemp, Other Contrabands Worth N192M DPV
***generates over N65B revenue for year 2022
By Our Reporter
Oyo/Osun
Customs

Area command has seized contraband goods worth over N192m DPV.

Naijanewshub.com.ng reports that Oyo/Osun Customs Area Command on Wednesday disclosed that it has seized various contraband goods with Duty Paid Value (DPV) worth over N192M, just as it announced the sum of over N65B as total internal generated revenue for the 2022.
Oyo/Osun Area Command Controller, Comptroller Babajide Jaiyeoba during a press conference on Wednesday at the Command's Headquaters Agodi Ibadan, the Capital City of Oyo state, stressed that the Command during the period covering May to November 2022, the Command collected a sum of Forty-Six Billion, Four Hundred and Thirty-One Million, Three Hundred and Twenty-One Thousand, Five Hundred and Seventy-Eight Naira, Sixty-Five Kobo (N46,431,321,578.65k).
Comptroller Jaiyeoba said that when added to the revenue collected for the period covering January to April 2022, the Command has collected a sum of Sixty-Five Billion, Four Hundred and Sixty-Two Million, Nine Hundred and Twenty-Five Thousand, Four Hundred and Twelve Naira, Thirty Kobo. (N65,462,925,412.30K).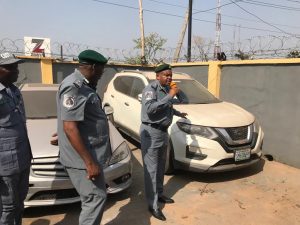 Jaiyeoba in his words while analysing the revenue generated by the Command, said, "When compared to revenue collection of Six Billion, Nine Hundred and Four Million, Nine Hundred and Seventy Seven Thousand, Seven Hundred and Sixty Nine Naira, Ninety Five Kobo, (N56,904,977,769.95k) during the same period last year, the command exceeded her revenue collection of 2021 with the sum of of Eight Billion, Five Hundred and Fifty Seven Million, Nine Hundred and Forty Seven Thousand, Six Hundred and Forty Two Naira, Thirty Five Kobo.(N8,557,947,642,35k) representing 15.04% increase."
He further said, "When viewed against the revenue target of the command for the period covering January – November 2022, the Command exceeded her revenue target with the sum of Six Billion, Seven Hundred and Twenty Seven Million, Four Hundred and Fifty Thousand, Two Hundred Naira, Twenty Two Kobo(N6,727,450,200.22k) representing 11.45% increase."
Jaiyeoba said, "This feat is made possible by our resolve to continue to religiously enforce provisions of our extant laws aimed at facilitating legitimate trade."
While speaking about the anti-smuggling activities and seizures made so far by the command, Comptroller Jaiyeoba said, "During the period under review, the Command, with the use of intelligence and continuous patrol and enforcement operations, made series of interceptions comprising of 126(One Hundred and Twenty -Six) seizures and 21 (Twenty-One) detentions. These include but not limited to, Premium Motor Spirit (PMS), Foreign Parboiled Rice, Second Hand Clothings, Used Tyres, Used Vehicles including Tokunbo Vehicles and Vehicles used as means of conveyance, Used Bags, used shoes, dry donkey Skin and Cannabis Sativa otherwise knowns as India Hemp with Duty Paid Values (DPV) One Hundred Ninety Two Million, One Hundred and Eight Two Thousand, Six Hundred and Fifty Two Naira Only(N192,182,652.00k).
"During the same period, it is pertinent to note that the command in the pursuance of inter-agency cooperation intercepted 80 wraps of Cannabis Sativa(India Hemp) weighing 42 kilograms, this is awaiting approval for handling over to NDLEA. In the same vein 69 sacks of dried donkey Skin was handled over to Nigeria Agricultural Quarantine Service (NAQS) along with 2 suspects and 1 means of conveyance for further agency action. You may wish to note that donkey is an endangered species and trading on endangered species contravenes schedules 6 of the CET and Convention on International Trade on Endangered Species (CITES) (Flora/Fauna) which Nigeria is a signatory to."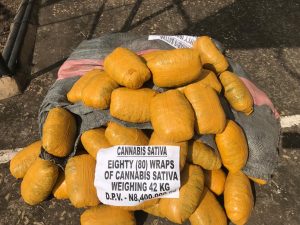 The breakdown of commodities seized by the Command so far are as follow; 4, 217 of 50kg bags of foreign Parboiled Rice, with DPV N74,219, 200.00; 914 kegs of 25 liter of PMS with DPV worth 2,010,800.00 of DPV; 40 Bales and 5 sacks of Used clothes with DPV worth N4,800,000.00, N180,000.00; 17 units of used vehicles with DPV worth N87,531,252.00; 1,167 pieces used Tyres DPV worth N8,846,400.00; 13 sacks of used bags with DPV of N780,000.000; a sack of used shoes worth N60,000.00 worth DPV; 69 sacks of Dry Donkey Skin worth N3,795,000.00 and 80 Wraps of 42kg of Cannabis Sativa(India Hemp) N8,400.000.00 worth of DPV.