Crime
Featured Post
News
Oyo Police Command Parades 30 Suspects Over Diversion Of Goods, Armed Robbery, Cyber Bullying, Kidnapping, Others In Ibadan 
Oyo Police Command Parades 30 Suspects Over Diversion Of Goods, Armed Robbery, Cyber Bullying, Kidnapping, Others In Ibadan
By Kazeem Awojoodu, Ibadan
Suspected criminals have been paraded in
Ibadan

.

Naijanewshub.com.ng reports that no fewer than 30 suspects have been paraded for their alleged involvement in various crimes committed such as diversion of goods, cyber bullying, armed robbery, kidnap for ransom, obtaining money under false pretence, rape among others.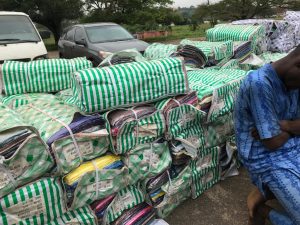 The suspects were paraded at the Oyo State Police Command Headquarters Eleyele Ibadan, the Capital City of Oyo state on Tuesday by the state police public relations officer, SP. Adewale Osifeso.
Addressing journalists at the command Headquaters, SP. Osifeso noted that the suspects have confessed to the crimes during a thorough and duly investigation carried out by intelligent officers and men of the command.
While briefing journalists on how suspected armed robbers who were paraded for diversion of goods worth millions of naira, SP. Osifeso said, "On 16/10/2022 at about 0300hrs, a team of operatives attached to the Command Monitoring Unit, Ogbomoso operational base while on intelligence-based anti-crime patrol within Ogbomoso town received credible information that some members of a notorious criminal syndicate specialized in hijacking and diversion of goods on the expressway were sighted around Ogbomoso axis with two vehicles loaded with some unidentified goods suspected to have been diverted from their owners.
Osifeso gave the names of the suspects as Ajao Ismail, aged 22; Raheem Isiaka, 35; Opalade Mayowa 32, Bayo Omoniyi 31; Olayiwola Hammed aged 28, Abass Soliu 31; Moses Alani aged 50.
He further said that the operatives attached to the Monitoring Unit immediately swung into action by tracking and eventually intercepting the syndicate in a convoy of; a White HIACE Bus with registration number AKD 360 YF and another Metallic Silver colored Toyota MATRIX Car with registration number KWL 125 CF at OKE-BABY area along Ogbomosho / Ilorin expressway."
"In the process, (5) five members of the criminal gang were arrested in possession of(100) One Hundred bundles of different clothing materials recovered from their two vehicles."
"The suspects have so far voluntarily confessed to have diverted the goods, while their testimonies through confession further led to the arrest of two other criminal receivers; ABASS SOLIU 'M' and MOSES ALABI 'M' in possession of additional (80) Eighty Bundles of the diverted clothing materials, all valued at about (#25,000,000) Twenty Five Million Naira inclusive of the initial (100) One Hundred bundles have been recovered."
Exhibits recovered from the suspect are 180 bundles of different clothing materials, one Toyota matrix with registration number KWL 125 CF and one Haice Bus with registration number AKD 360 YF.
While speaking with journalists, one of the suspects, Ismail Ajao said, "I actually agreed to buy a bundle of the clothe at the rate of N20,000, It was Alhaji that introduced the job to me, and I told him that I will buy the bundle at the rate of N20,000, I don't know how much they sell it in market but I believe I can sell it at the rate of 30,000 per bundle so I can make like N10,000 gain on each bundle. Each bundle contain 30 pieces of five or ten yards depending in the brand."
"This is my first time of doing this business, I don't know it will turn out to be like this." Ajao said.
Speaking on the case of conspiracy and defilement and threat to life cum cyber bullying, SP. Osifeso said, "On the 24/10/2022 at about 1200hrs, the victim, Oluwakoseunti Bunmi 'f' 17yrs visited her friend Joshua Adegoke 'm' age 18yrs at his residence where she met one Peter Akintunde 'm', age 18yrs in his company.
Osifeso who gave the names of the suspects as Joshua Adegoke aged 18; Akintunde Peter, 18; Adetona Oluwajoba aged 18 years, maintained that, "At Joshua's place had a bottle of soft drinks after which she was invited to his room for sex an offer which she declined.In a bid to salvage what she sensed was getting out of hand, she innocently asked Peter, Joshua's friend to prevail on the situation but instead Peter advised her to heed to Joshua's Demands."
"At this point both friends took turns at forcefully and unlawfully having Carnal Knowledge of their victim while simultaneously recording the footage. Moving forward, Joshua deliberately transferred the video footage to another friend one Oluwanjoba Adetona who also reached out to the victim demanding for sex in exchange for not uploading the footage on Social Media. The suspects have voluntarily confessed to the crime and are helping with the investigation. Updates would be provided accordingly."
Two mobile phones were recovered as exhibits from the suspects.
SP. Osifeso on behalf of the state police commissioner, CP. Adebowale Williams said that the command is ready to ensure safety of lives and properties before, during and after the forthcoming general election.
He said, "In readiness for the forthcoming general elections, the Oyo State Police Command Shall Vigorously embark on Intensified visibility policing strategies, high octane convoy patrols, purposeful intelligence sharing with relevant sister agencies, constructive media engagements and strategic stop and search duties across every nook and cranny of the State to stem the tides of the emerging trend of a couriering arms and ammunition on overcrowded and sometimes unregistered motorcycles.
"In furtherance of the above, and as the State navigates towards the electioneering campaigns and ember period, the Command's security architecture has been proactively remodified to comprehensively cater to the security yearning of residents with the assurances of heavy sanctions within the ambit of the law on any individual or group that attempts to disrupt the relative tranquility enjoyed in the State." Osifeso said.