As protests by the Oyo State workers and pensioners under the umbrella of the Nigeria Labour Congress (NLC), the Trade Union Congress (TUC) and the Nigeria Union of Pensioners (NUP) enters it's fitfh day over a number of demands from the state government, the angry workers have vowed to observe the Friday Jumat service at the entrance of the Secretariat and will not stop until the state governor, Seyi Makinde addresses them.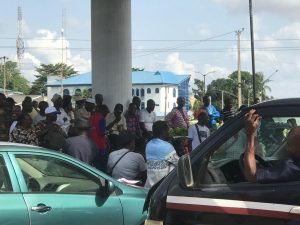 The workers had since the commencement of the protests on Monday, blocked the entry and exit gates of the Oyo State Secretariat
The labour union members had since Monday parked their cars to block the gates, just as they discouraged workers from going into the State Secretariat to resume the day's work and join the protest.
Among requests of the workers are payment of salary deductions, palliatives for workers, upward review of pension allowances, payment of leave bonus, payment of gratuities to retirees who have been stagnated since the year 2021 and release of promotion letters for the Year 2021 and 2022.