No fewer than 1,545 beneficiaries have received agricultural inputs so far in 19 local government areas out of the 33 LGAs in Oyo state as a support from the state Governor, Engr. Seyi Makinde.
The distribution of the agricultural Inputs to beneficiaries in 19 LGAs in the state so far was carried out by the Oyo-Ncares in partnership with the World Bank under the Oyo State Agribusiness Development Agency (OYSADA) in line with the vision of the state governor, Engr. Seyi Makinde to assist the farmers that were affected by the Covid-19 pandemic.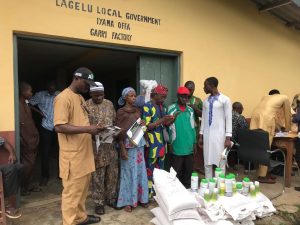 Speaking with journalists at Oluyole Local Government during the last phase of the distribution to the 19 selected LGAs in the state, the state coordinator for Nigeria Covid-19 Action Recovery and Economic Stimulus,(N-Cares) Result Area 2, Mr. Kolawole Adewumi Bamigbola, noted that no fewer than 1,545 farmers have received different types of agricultural inputs based on their farming categories in 19 LGAs out of the 33 LGAs we have in the state."
Mr. Kolawole in his breakdown analysis gave the names of the 19 LGAs covered so far in the distributions as Iwajowa LG (100 farmers); Oluyole LG(70 farmers), Ibarapa North LG (60 farmers), Ibarapa central LG(50 farmers) Ibarapa East LG (100 farmers), Lagelu LG -70, Ido – 90, Iseyin -80, Oorelope – 70, Oyo East – 80, Olorunsogo – 170, Saki East – 65, Oriire – 100, Kajola – 80, Ogbomosho South-90, Surulere – 70, Egbeda – 70, Atiba – 100, Ona-Ara – 20.
Kolawole said, "all these beneficiaries comprises casava farmers, maize farmers, rice and tomatoes farmers."
He also noted that the state sponsored Youth Entrepreneurship in Agribusiness Project, YEAP beneficiaries were carried along in the distributions exercise that cut across all the 19 LGAs so far.
In his words, Kolawole further said, "All our beneficiaries should count this as a privilege and utilize these inputs for the intended purpose.The Programme is about providing agricultural inputs support to small scale farmers that were affected by Covid-19 during the year 2020."
"Though Covid-19 is no more ravaging the country, we still find out that there is still hardship that is occasioned by the removal of petrol subsidy, so these inputs given to the beneficiaries will assist them, and serve as a kind of palliatives to these famers so that there would be reduction of hunger and poverty in the society."
In Oluyole local government
70 Cassava farmers, out of which are 30 YEAP beneficiaries received the agricultural inputs as empowerment materials from the state governor Engr. Seyi Makinde through OyoN-Cares in order to ensure food security in the state, as each beneficiaries received 20 bundles of Cassava cuttings, 2 bags of NPK Fertilizer and 1litre of herbicide.
In Atiba LGA, each of the 100 Tomatoes farmers received 25 sachets of tomatoes seeds, 1 pre-emergence and 1 post-emergence herbicide, with NPK 20-10-10 Fertilizer, while in Ona-Ara local government each of the 20 tomatoes farmers also received their agricultural inputs.
In Oyo East local government, each of the 80 cassava farmers received 20 bundles of cassava cuttings, with 2 bags of NPK, and 1 litter of herbicide. Also in Lagelu Local Government Secretariat Iyana-Offa total number of 70 farmers comprises 40 cassava farmers and 30 maize farmers received their agricultural inputs.
As each of the 40 cassava farmers in the local government received 20 bundles of cassava cuttings, 2 bags of NPK fertilizers, and 1 litres of herbicide, while each of the 30 maize farmers collected 10kg of maize seeds, 2 bags of NPK fertilizers and 1 pre-emergence and post-emergence herbicide.
In their separate remarks, the executive chairman of Oluyole Hon. Olaide Popoola Settle and his Ona-Ara counterpart Hon. Musibau Sanusi SHABA lauded the state governor Engr. Seyi Makinde for supporting the farmers at the grassroot.
Hon. Musibau in his words charged the beneficiaries not to engage in selling of the inputs given to them, but to make better use of it, he also noted that the local government will do more to help the genuine famers to be more productive, by providing hectares of land, seedlings among other things in order to complement the efforts of Gov. Seyi Makinde on food security across all the geo-political zones of the state.
In his words, Hon. Olaide Settle said, "This benefit is one of the palliatives rolled out through the goodwill of his Excellency, the Governor of Oyo State, Engr. Seyi Makinde, I'm now using this medium to enjoin all the beneficiaries in Oluyole Local Government to make good use of these items so that better future could await Oluyole Local Government as far as agriculture is concern."
All the beneficiaries that spoke with journalists expressed their gratitude's to the state governor over the support, they all pledged to make good use of their inputs to boost their farm produces.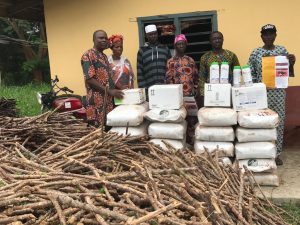 A cassava farmer from Egbeda local government, Mrs Olatoyosi Rashidat a YEAP member said, "I'm so grateful for this opportunity by the state government, I was sponsored to Nasarawa state to learn agriculture in a more bigger scale and with the use of modern technologies, coming back to Ibadan I ventured into cassava farming and today I'm one of the beneficiaries that received 20 bundles of cassava cuttings, fertilizer among other things."
"I really appreciate the state governor's effort towards sustaining agriculture in the state, this intervention is coming at the right time, I really commend him, all these items are very costly in the market, I'm really happy to be among of the beneficiaries today and I'm promising that I will make good use of the inputs given to me." She said.