Prioritize Youth Development Through Mechanize Farming, Quality Education, Abisal CEO Tells Tinubu
•••trains middle aged women, youth, farmers on foods processing in Ibadan
By Admin
As Nigerians await change of government, a concerned citizen, Ambassador Saidat Dauda, the Chief Executive Officer of Abisal Megatop Limited who also doubles as the Director of Abisal Foods Foundation, has called on the incoming President, the president – elect Asiwaju Bola Ahmed Tinubu on the need to invest hugely in youth development.
Naijanewshub.com.ng reports that Ambassador Sadiat also maintained that our youth should be properly engaged with proper and adequate mechanized farming as to put an end to series of insecurity challenges battling with the country.
Speaking with journalists at the Headquaters of Abisal Megatop Limited located in Sukuru Village along Iyana Offa, Lagelu Local Government area of Ibadan, shortly after the training of participants of Abisal Foods Foundation foods processing and networking programme, Ambassador Saidat Dauda stressed that the aims is to build lives and promote productivities.
She said, "My advise to our incoming president Asiwaju Bola Tinubu, is to invest more in agricultural sector, I also want him to invest more in youth because the youth we refuse to carry along today will become problem for the society tomorrow."
"I'm one of those people that campaign for him, I even set up a campaign team to campaign for him, and we thank God that he won the elections, I believe in him that he's going to change Nigeria for better, so my advise to him is to engage our youths through mechanized farming, apart from creating jobs for them, it will also address insecurity challenges we are facing in the country such as banditry, kidnapping and all other anti social vices."
"Our youths need proper orientation because they have been brain washed, they believe they can get money without hard working or going to school, so they need to be properly briefed on how they can make legitimate money through agribusiness, the incoming government should also invest hugely in our education sector because our youth now see education as scam, which is not, they believe in quick cash, riding flashy cars without working, so they should invest in agriculture and most especially in cotton, because currently I'm working on a research on cotton which is among our major source of income in the Eighties, we were getting large revenue from cotton in the 80s then but now the reverse is the case that means something is wrong, we've neglected that aspect, it's now only in the north that they are practicing cotton farming but in western part of Nigeria we need to revive that agric sector again." She said.
While speaking in the importance of the training, Ambassador Saidat said, "The reason why we organize this training is to promote agricultural sector for sustainability and we randomly selected the participants in Lagelu Local government in order to promote their agriculture because the main work of this local government is farming, and that's why we just come up with how we can add value to their farm produce and the person that supported us for this training program is Dr. Wahabi Ashiru, the Director of FIIRO.
"This is a continuous program because we already have a program for sustainability, for example we've taught them on practical aspect, and in a month time we are going to tech them about record keeping and other things, for this program as you can see we invited different agencies like Nigeria Export Promotion Council (NEPC), SMEDAN, the ministry of industry from the Oyo State."
"We also invited Nigeria Association for Small Scale and Medium Enterprise and with all these agencies being invited to this program we've been able to link these participants with them to promote the sustainability and make them to practicalise what they've been taught and we are still going to introduce them to some organizations so they can be able to write proposal and be able to get some funds for their products these are part of the sustainability measure we are talking about."
"We are also going to create a WhatsApp platform in order to monitor them, we will be calling them to see if they're actually practicing what we have taught them." Saidat said.
While speaking on the importance of the training, Saidat said, "We trained the beneficiaries on cassava to Fufu powder, Beans to beans flour, and how to market their products as well as how to package and brand their products for large market, we also taught them on how gey can add value, how they can make their products a unique one from the ones already at the market."
"The participants were amazed with the training, some of them have already doing one or two things before, but they don't even know how to package it well, the don't know how to get their raw materials and others, those are the things we trained, they left here happily and they appreciated everything we trained them." She said.
Sadiat also advised the beneficiaries to make good use of the training they received. She said, "my message to the participants is to utilize the training because we've already spent a lot on this training, we gave them a room for them to come back to us for networking and kinking them to the NAFDAC for proper registration, I want them to see themselves as producers already because everything grows from within. I will be so glad to move to the next level of the training when I'm seeing them utilizing this one we have taught them.
In her contributions one of the trainees of the program said, Dauda Zainab who came from Lagos for the training said, and I'm one of the team members, I trained the participants on how to make raw cassava into Fufu powder and other things, the training was so excellent and the turn out was awesome and it's more than what we expected and they were very compliance and ready for what they're were here for."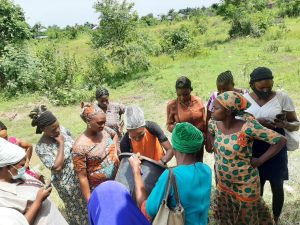 One of the beneficiaries of the training, Mr. Lamidi Wasiu from Sukuru Village said, "I'm a Cassava farmer, we thank Abisal Foods Foundation for this training programme, there is no doubt this will promote our agric business for most of us here are farmers."
Another beneficiary, Awoyela Suliat Opeyemi from Gbaremu Idi Obi Ibadan, said "I'm grateful for being part of this free training, we have been taught on how to make Akara, through that dry beans flour and how we can make cassava into Fufu flour and on how to make beans into akara or moimoi flour, I really Abisal Foods Foundation for they have even started linking us with people that can help us in our production as regards marketing and on how to seek for financial assistance. I really appreciate her kind gesture towards us."