By Odunayo Oluwabukola, Ibadan
Former head of service in Oyo state and the Pioneer Chairman of Oyo State Road Transport Management Authority (OYRTMA), Dr. Ebenezer Okebukola has said that there is need for the state government to inject more personnel into the agency for effectively carrying out traffic management across the state.
Dr. Okebukola who is also the former state coordinator special marshal stated this while delivering a lecture entitled: OYRTMA Yesterday, Today and Tomorrow at the 14th year Founder's Day Celebration of OYRTMA held at its headquarters, Secretariat, Ibadan.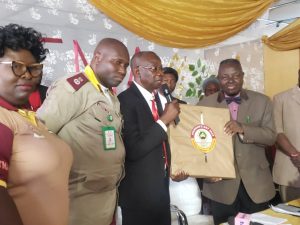 Dr. Okebukola lamented that road signs have disappeared on most of the roads especially kilometre or milepost strategic for security while location identification are no more in existence.
He commended the Oyo State government for opening inter-city roads such as Moniya-Ijaiye-Iseyin called on OYRTMA to partner FRSC to monitor over excessive speeding on these road to reduce fatalities.
Dr. Okebukola said that "OYRTMA needs to be involve in training of their officers, apart from that they need to be innovative and do research on terms management.
Like I said in my address commended the governor for constructing inter-city roads if care is not taken over speeding will cause fatalities on this road.
"I there implore the OYRTMA and the Federal Safety Corps to make sure they monitor this roads that have taken alot of lives from this roads.
"Most of our roads government should establish or construct kilometres line post and location identification, I think CCTV is also better on the highway.
"They should also establish a command control centre here so that they can control traffic within the metropolis.
Earlier the General Manager of OYRTMA, Adeoye Ayoade explained that the agency has intensified activities in order not to deviate from its mandate.
He Assured residents of the state of OYRTMA's renewed commitment towards ensuring effective traffic management in the state.
Adeoye averred that "All the road users should now have it at the back if the mind that they need to obey the rules and regulations on the road.
"The traffic light on the roads are not meant for personal use, they are for public use and they must obey the rules that guiding them.
"Our officers are coming out with a renew hope, with a renew strength, with a renew energy to ensure that those violating the light are adequately punish if they violate any of those rules.
"The officers also are now more inform, are now more orientated for the reasons why they are here, so we are coming out now to ensure that those objectives are met.
Oyo state Pioneer secretary of OYRTMA, Mr Aiki Tunde admonished men of OYRTMA to respect the roads users and do their works in accordance with the extant laws if the agency.