Nigerian Army Commends Media For Playing Vital Roles In Nation Building, Calls For Working Synergy To Enhance Security
By Kazeem Awojoodu, Ibadan
Nigerian Army

has commended journalists for playing vital roles in nation building.

Naijanewshub.com.ng reports that Nigerian Army has called for smooth working synergy from the media in achieving successful operations, as well enhance the security architecture of the country.

This call was made by the General Officer Commanding (GOC) of 2 Division Nigerian Army, Major General Aminu Chinade while receiving members of the pen pushing profession in his office at the Division Headquaters located inside Fajuyi Adekunle Cantonment Ojoo Ibadan.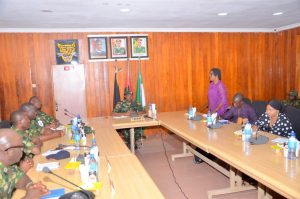 GOC Chinade in his requests called for the support and collaboration of the media in Oyo State and Nigeria in general in order to enhance the security of the country.
Chinade who hosted journalists alongside some top principal officers of the Division said "the collaboration with the media would further enhance the security of the nation and by extension the wellbeing of Nigeria."
He noted that members of the Armed Forces would continue to engage and work closely with the media and other critical stakeholders in Nigeria in order to enhance the success of their operation.
He said, "Your visit signify the cordial relationship that exist between the press and the 2 Division and in extension the Nigerian Army and the relationships shows that you are very dear to our heart and this is going to further enhance the security of our state and our dear country.
"The press and their roles is very vital in nation building and we will continue to engage with the press in accordance with our constitutional duties.
"I want to assure you whatever information that is require to promote peace so that we can together make our country better, We solicit for your continue support in the discharge of our duty and attainment of peace and national development." GOC Chinade said.
Speaking on behalf of the journalists, Mrs Toyin Malik appreciated the GOC for the hosting, stressing that the importance of the courtesy visit is to familiarize and interact with the GOC and the principal officers of the Division. Malik noted that such interactions will no doubt assist the journalists in carrying out thier duties of disseminating news as prompt as possible without any fear or intimidations.
She however pledged the support of the media to the Nigeria Army through dissemination of accurate, unbiased news informations to members of the public.
Highlights of the visit was the presentation of the souvenir to the visiting journalist which was presented by GOC Chinade to Mrs. Malik, group photograph and hand shake with the GOC.
Recall that Maj General Aminu Chinade assumed duty as the General Officer Commanding Of 2 Division Nigerian Army on August 12, 2022 and was presented the flag of the Division by Maj General Gold Chibuisi the outgone GOC.
Chinade upon his resumption as the GOC for 2 Div, was the Commandant Nigeria Army Department Zaria, and as the GOC for 2 Division Nigerian Army, his operation areas covers Oyo, Osun, Ondo, Edo, Kwara, Ekiti and some parts of Niger states.