NSCDC Nabs Father For Allegedly Defiling 11-Year-Old Daughter, Parades Okada Rider Over Defilement of Minor In Ibadan
By Admin
Two suspected paedophiles

have been paraded in

Ibadan

.

Naijanewshub.com.ng reports that  two suspected paedophiles have been paraded in Ibadan for their alleged involvements in defiling minors in their respective areas.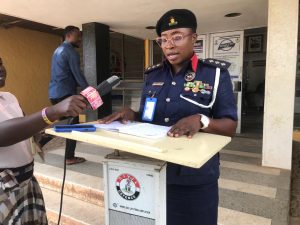 The suspects were paraded at the Nigeria Security and Civil Defence Corps (NSCDC) Command Agodi Ibadan, the Capital City of Oyo state on Monday.
Briefing journalists over the development, the State Public Relation Officer of the Corps, DSC Oyindamola Okuneye gave the names of the suspects as Tunde Kareem, aged 33 from Ede, Osun State, a residents of Papa, Idi Osan Olodo road, Ibadan, and Amos Micheal aged, 46 a native of Ikwo Local Government Abakaliki from Ebonyi state, that resides at Road 7 No. 5 Agbati Orire Olasan road, Alakia, Ibadan.
Oyindamola maintained that Tunde Kareem, was arrested for defiling his 11-year-old daughter. While Amos Micheal was arrested for defiling a minor aged 10 years on the 15th of January 2023 by taking her to a lonely road with his bike in the vicinity and using his finger to penetrate her till she was defiled.
She said, "Amos used to go to the girl's mother's shop to drink locally made herbs and used the opportunity to get closer to the girl."
"Tunde Kareem upon interrogation admitted to have had the carnal knowledge of his daughter once before his arrest on 17th January 2023." Oyindamola said.
Oyindamola however said that the state Corps Commandant, CC
Adaralewa Micheal insisted that the corps will maintain its stand on zero tolerance for misuse of children and protection of girl children in the State.
While speaking with journalists, Tunde Kareem denied the allegation of having canal knowledge of his daughter.
He said, "this is the handiwork of my ex-wife, she is the one that reported me and levelled that such allegation against me because she want to the girl to be in her custody. I don't rape her, she is my daughter, she is the one I'm hustling for, this is pure lie against me, I have remarried and I can't leave my daughter for her."
In his words, Amos Micheal who was accused of defiling a minor confirmed to have touched the private part of the girl in question but denied raping her.
He said, " I don't penetrate into her as I was accused of, but I touched her, I actually took her to a private place to do that while taking her to her mother who sells local herbs for us."
DSC Oyindamola said that, "both suspects pleaded guilty to the offense committed." Stressing that the suspects would be charged to court immediately after the completion of their investigation."